The Best 'Simpsons' Treehouse of Horror Episodes to Watch for Halloween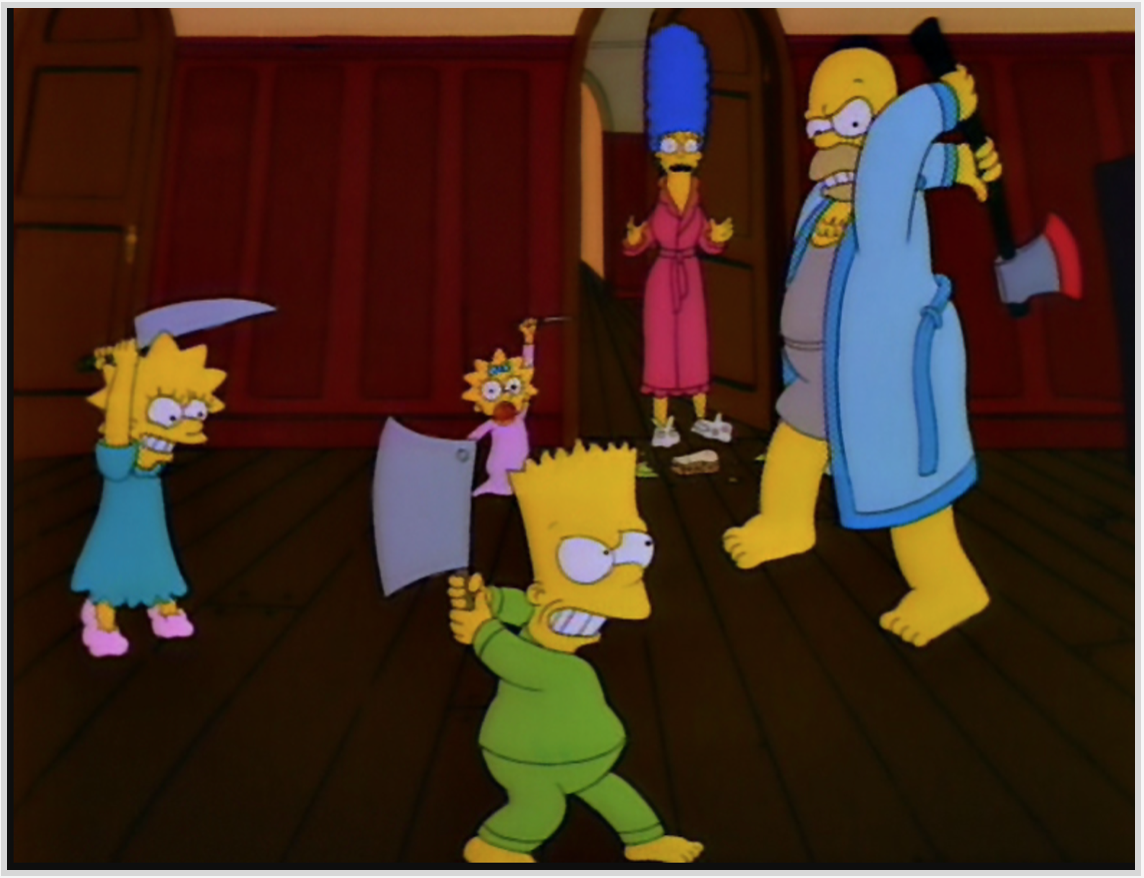 Welcome to Peabody Finds, the weekly newsletter for the Peabody Awards, offering our recommendations for powerful and thought-provoking media you should consider engaging. The newsletter offers deeper dives into Peabody-recognized programming (and beyond), with commentary, insights, and additional materials for context and expanded engagements. If you like it, subscribe here!  
The Best 'Simpsons' Treehouse of Horror Episodes to Watch for Halloween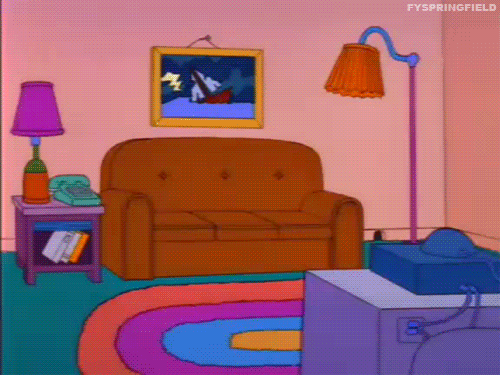 One major secret to the longevity of The Simpsons—at 34 seasons and counting—is the way it can defy logic and reality as an animated series. Not only do the characters stay the same age, but they can go anywhere they want—deserted islands, New York City—and encounter anyone they want—Drew Barrymore, Paul Rudd, John Legend. But the writers and animators have one chance each season to be extra weird, and that's the annual "Treehouse of Horror" episode for Halloween, one of TV's few great Halloween traditions. The "Treehouse of Horror" has been part of The Simpsons since its first Halloween on the air in 1990. In these special episodes, The Simpsons takes Halloween-granted license to get a bit more violent, dark, and creepy while parodying well-known scary works like Poltergeist, The Shining, The Twilight Zone, and "The Raven." There are dozens to choose from—the show's still churning them out yearly, with a double dose this year—but here are our five favorite "Treehouse of Horror" episodes from the Peabody-winning The Simpsons.
Where to Watch: Disney+
---
'Treehouse of Horror' (season 2)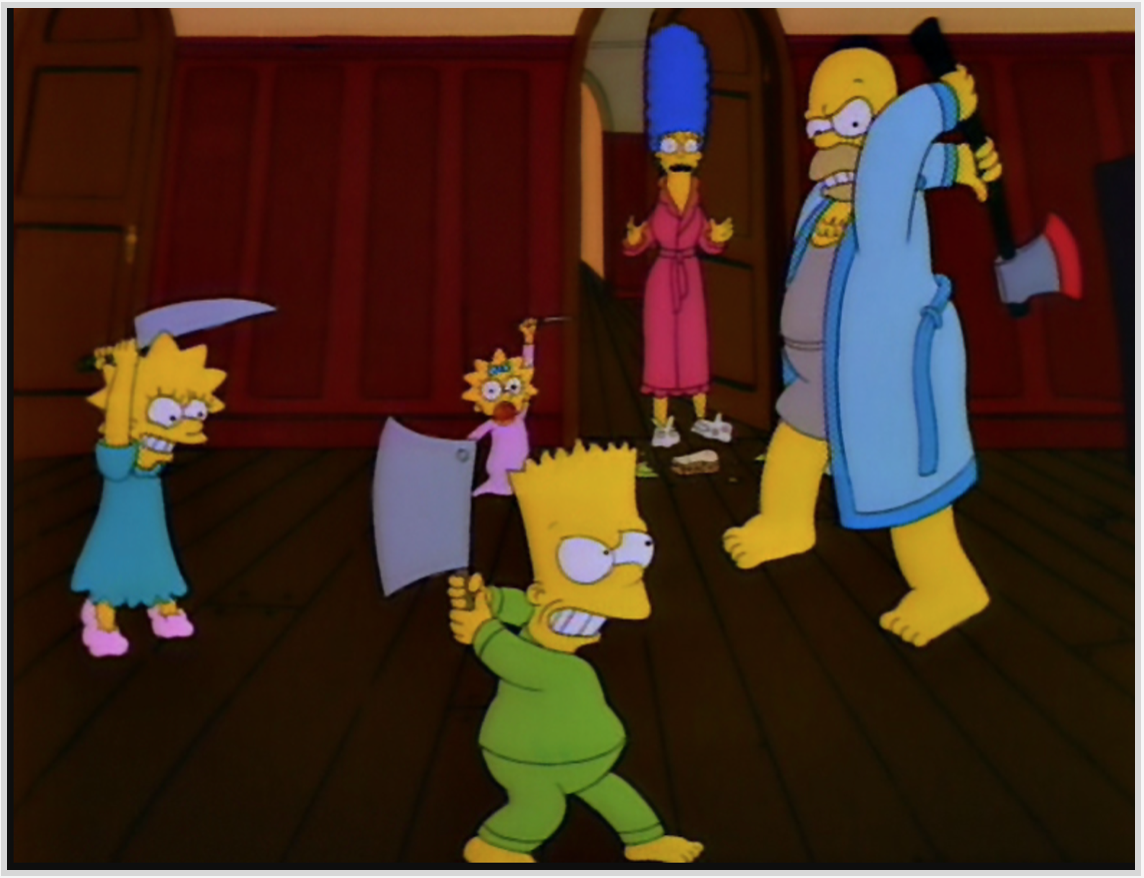 This is the episode where it all begins: Bart and Lisa trade scary stories in their treehouse, and we see each of those tales—three in all—acted out by various Simpsons characters, thus setting the template for all the Treehouses of Horror to come. The Simpsons had premiered less than a year earlier and was at the heights of its controversy-stoking phase (an animated series! setting a bad example for children!), so this installment came with a disclaimer from Marge, telling anyone who didn't want to see something scary on TV to put their children to bed instead of writing angry letters. The stories themselves parody Amityville Horror and Poltergeist with the Simpsons moving into a haunted house, The Twilight Zone with the Simpsons being abducted by recurring aliens Kang and Kodos, and "The Raven" with Homer as the Edgar Allan Poe character and a very Bart-like bird.
---
'Treehouse of Horror III' (season 4)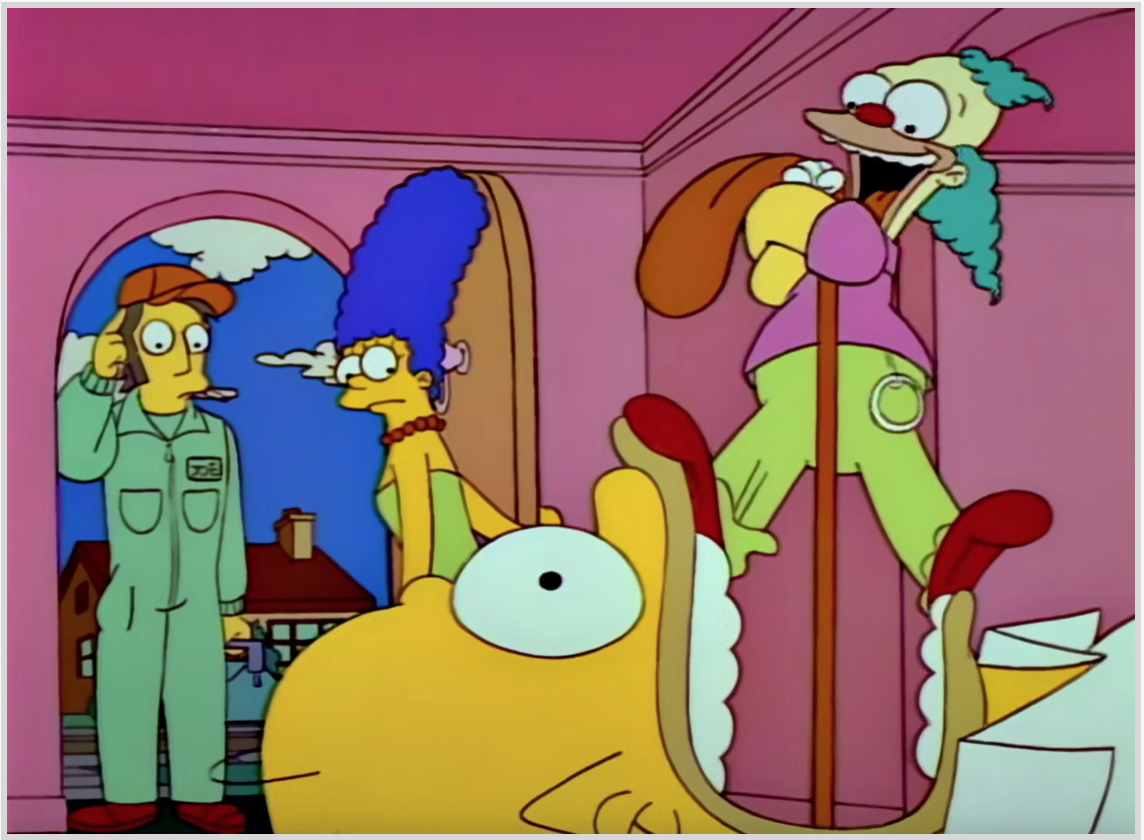 The Simpsons writers are beginning to find their Halloween groove in the third "Treehouse of Horror" installment, in which Homer buys Bart an evil talking Krusty the Clown doll, Homer and Marge spoof King Kong (entirely in black and white), and Bart and Lisa provoke a zombie attack on Springfield. This one is absolutely packed with references: Gremlins, Child's Play, more Twilight Zone, Return of the Living Dead, Alfred Hitchcock, and others. All of the segments are layered, clever, and, at times, genuinely dark. Is there anything creepier than an evil clown?
---
'Treehouse of Horror IV' (season 5)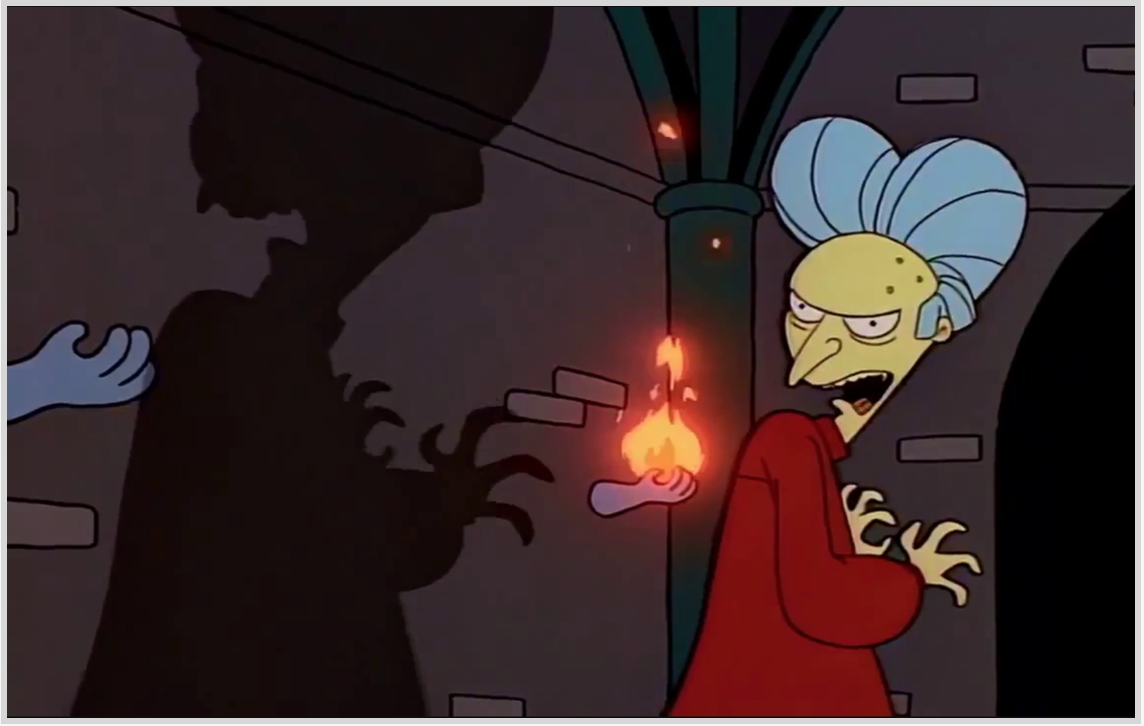 The Simpsons takes on The Devil and Daniel Webster, the classic Twilight Zone segment "Nightmare at 20,000 feet," and Bram Stoker's Dracula in this outing. These iconic works prove the perfect fodder for this series: In "The Devil and Homer Simpson," freakily positive neighbor Ned Flanders makes for the perfect Satan, and things get particularly surreal at the end when he turns Homer's head into a doughnut. "Terror at 5 1/2 Feet" perfectly spoofs that legendary Twilight Zone, this time with Bart being driven mad by a creepy little creature on the side of the school bus that no one else seems to see. The "Dracula" segment even delivers a genuine twist ending before morphing into an unexpected Peanuts tribute. And here's an extra tidbit for your pub trivia: This episode was co-written by Conan O'Brien, his last Simpsons assignment before he left to host NBC's Late Night.
---
'Treehouse of Horror V' (season 6)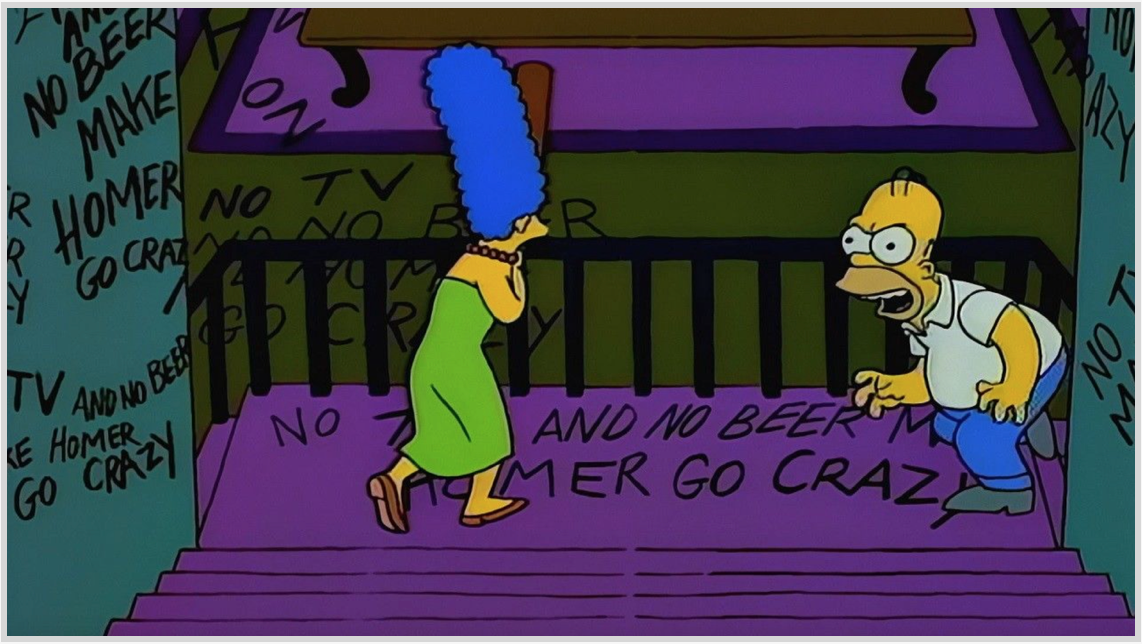 Widely regarded as the best of the 'Treehouse' franchise, the fifth iteration gets particularly cinematic with its sendup of The Shining, in which Homer is driven to murderous madness by the lack of TV and beer at the haunted lodge where the Simpsons are working as caretakers. The episode turns philosophical with "Time and Punishment," which has Homer discovering a time-traveling toaster and scrambling societal and human evolution in the process. Then we're in for some light cannibalism in the final Soylent Green-inspired story. There's also a jaw-dropping ending sequence involving the "fog that turns people inside out" and a performance of the song "One" from A Chorus Line. There's nothing more Peak Simpsons than that.
---
'Treehouse of Horror VII' (season 8)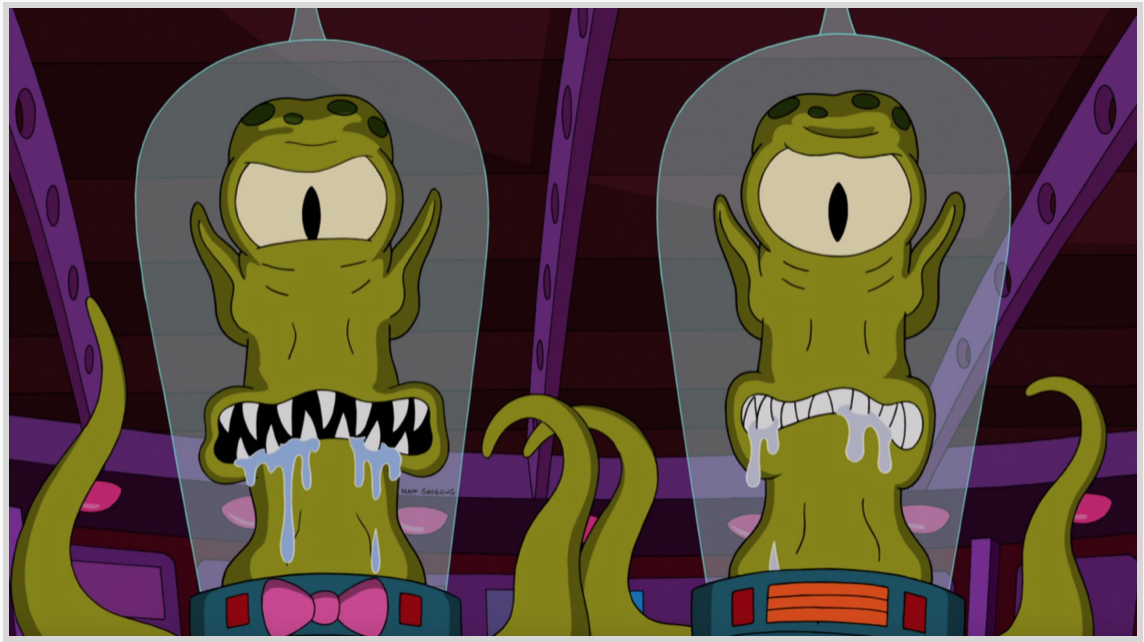 Somehow this episode's circa-1996 political parody feels as spot-on and chilling as ever, despite its focus on the Bob Dole vs. Bill Clinton presidential race of that year. When the recurring 'Treehouse' aliens Kang and Kodos assume the forms of Dole and Clinton in an effort to take over America, the two-party system fails and Kang takes over as a tyrannical dictator, enslaving Americans to build a death ray. (Kang on the campaign trail: "Abortions for some, miniature American flags for others!") "The Genesis Tub," in which Lisa manages to create an entire miniature society in a petri dish for the science fair, delivers a spot-on Twilight Zone-esque ending.
---
Dive Deeper
---

The Rewatchability podcast revisits the first nine installments of The Simpsons' "Treehouse of Horror," the franchise's clear heyday—which included all five of our favorites listed here.
Where to Listen: Apple Podcasts
---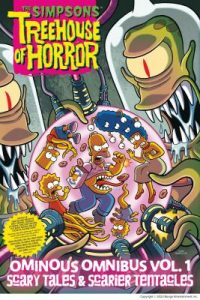 This three-volume set features all of the Simpsons Treehouse of Horror comics—23 new stories beyond those seen on the show, written and illustrated by major names from the comics world, including Sergio Aragonés (MAD magazine), Jeffrey Brown (Star Wars: Darth Vader and Son), and Jill Thompson (Scary Godmother), as well as celebrities such as Mark Hamill, Thomas Lennon, and Patton Oswalt. This recent edition collects them all for the first time in a deluxe hardcover.
Where to Buy: Amazon  
---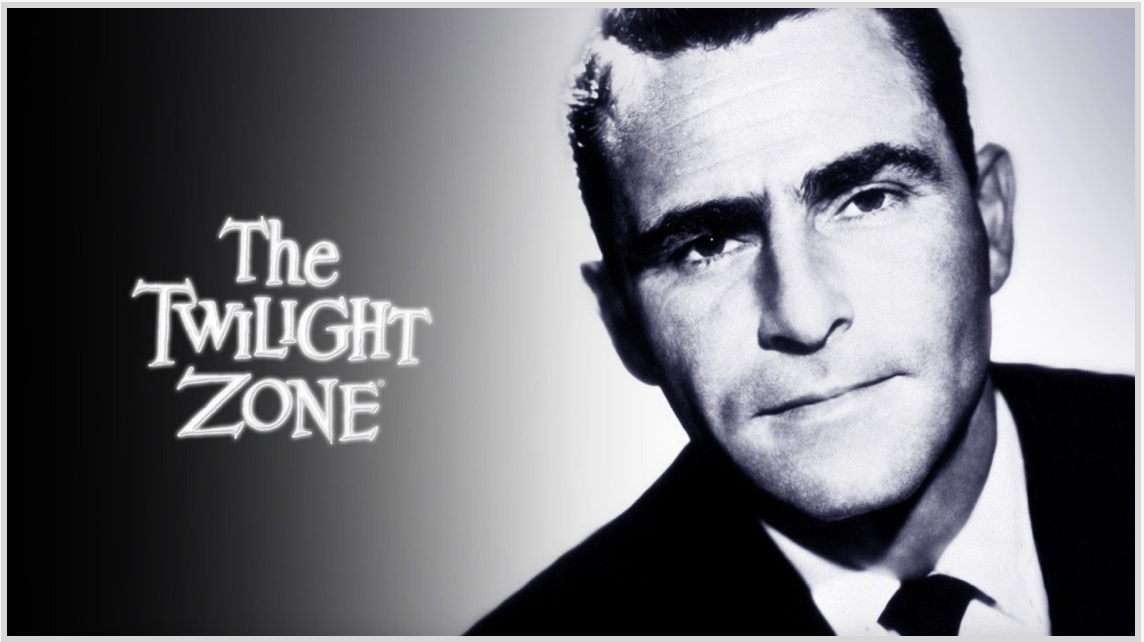 The classic 1960s anthology series inspired some of the best "Treehouse of Horror" segments. Hosted by Rod Serling, it set the standard for science fiction and suspense on television, with gripping stories of monsters, aliens, and detours into the fringes of the unknown.
Where to Watch: Paramount+
---
Watch Homer Simpson Accept the Peabody Institutional Award
In 2020 "The Simpsons" won the Peabody Institutional Award for being one of television's sharpest critics but also one if its mediums funniest and most delightful offerings.
---