Ten Great TV Christmas Episodes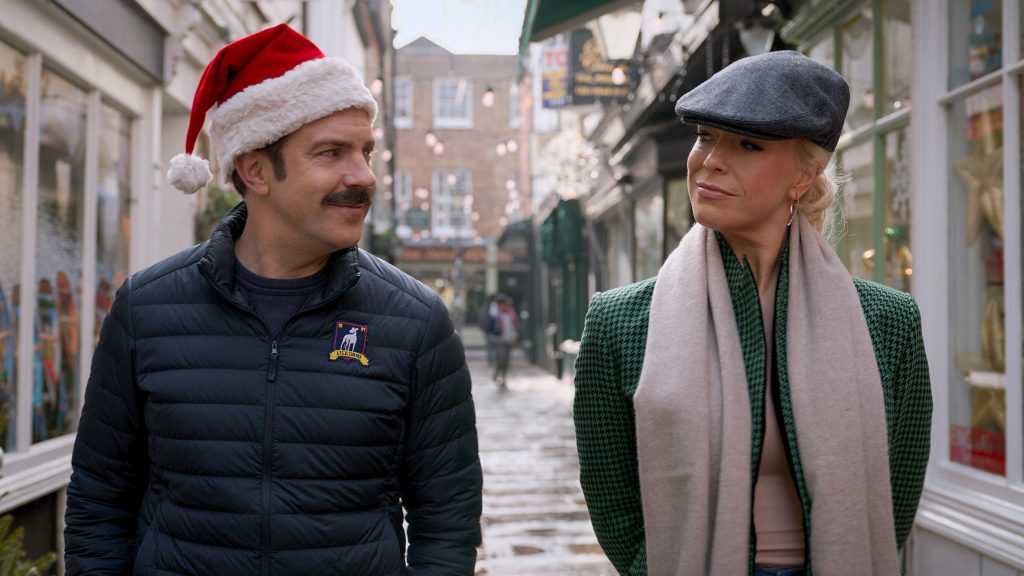 Welcome to Peabody Finds, the weekly newsletter for the Peabody Awards, offering our recommendations for powerful and thought-provoking media you should consider engaging. The newsletter offers deeper dives into Peabody-recognized programming (and beyond), with commentary, insights, and additional materials for context and expanded engagements. If you like it, subscribe here!
Ten Great TV Christmas Episodes
Even prestige TV isn't immune to a good Christmas episode. Keep up your high-quality viewing habits while still getting into the spirit of the season with these Christmas episodes of Peabody Award winners.
---
Ted Lasso: "Carol of the Bells" (2021)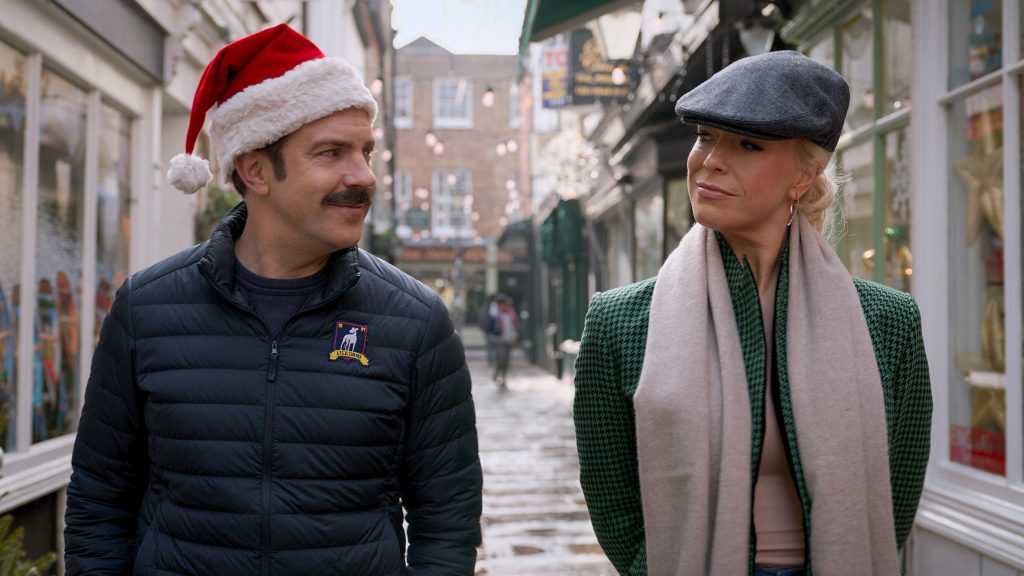 It's no surprise that the feel-good hit knows how to do Christmas, even though, due to its streaming schedule, this episode originally aired in August. Now's the time to revisit Ted and company's celebration, which includes a dentistry-related Christmas miracle, a Love Actually homage, a heartwarming gathering for Ted's team full of soccer stars from across the globe, and a rousing version of "Christmas (Baby Please Come Home)" from series star and outrageously talented vocalist Hannah Waddingham.
Where to Watch: AppleTV+
---
Portlandia: "Winter in Portlandia" (2012)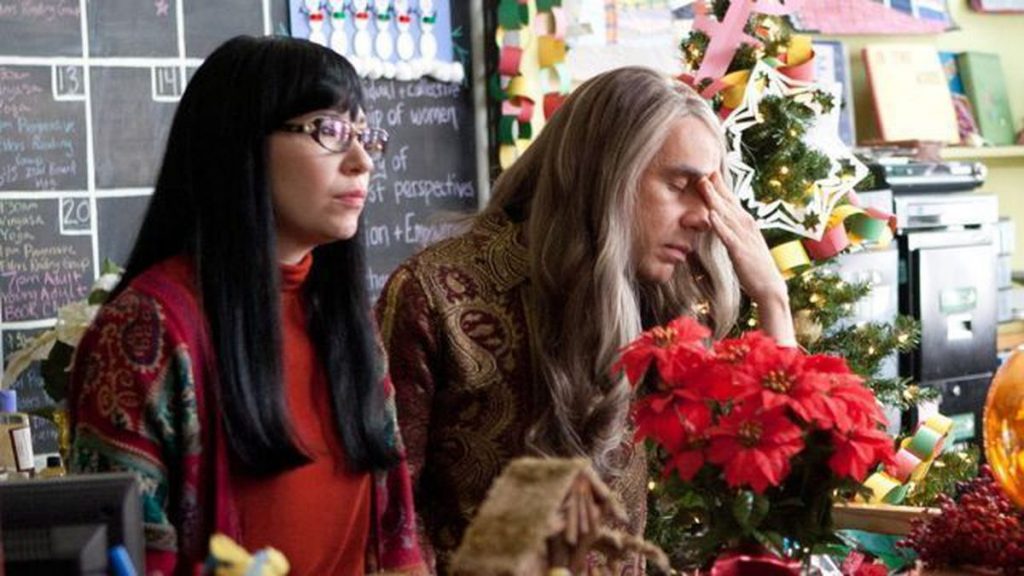 Portlandia's holiday special features a variety of sketches like any other episode, though the standout is when guest star Bobby Moynihan plays straight man Robert visiting his mother, Candace, at her feminist bookstore, Women & Women First. There, he does some fraught holiday shopping. (Robert: "I don't want that vagina pillow. We have so many. We have 13 vagina pillows. My entire bed looks like a bunch of women exploded on it." Candace: "That's one room. So there are other rooms in the house.") There's also a great bit about Seasonal Affective Disorder.
Where to Watch: Amazon Prime
---
Dickinson: "There's a Certain Slant of Light" (2019)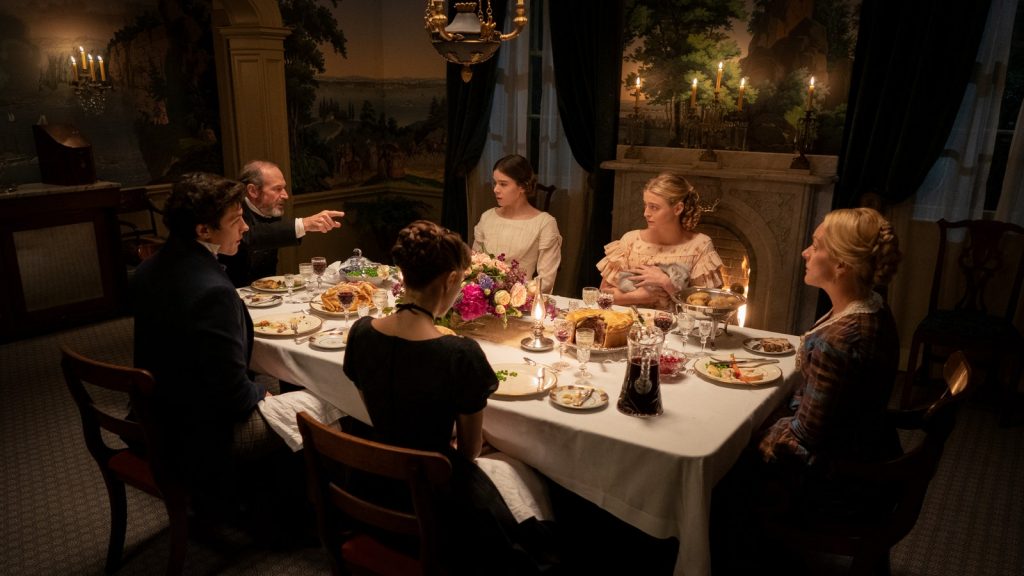 Emily Dickinson's family hosts a festive New England Christmas, complete with roasted goose and songs around the piano. Emily's falling in love with a charming new employee of her father's law practice who has a persistent cough (a forboding sign in the mid-1800s), and she's shown a sudden interest in cooking with an eye toward seeming like wife material. Dinner also includes a surprise guest: a money-obsessed Louisa May Alcott, played with manic energy by Zosia Mamet.
---
Parks and Recreation: "Ron and Diane" (2012)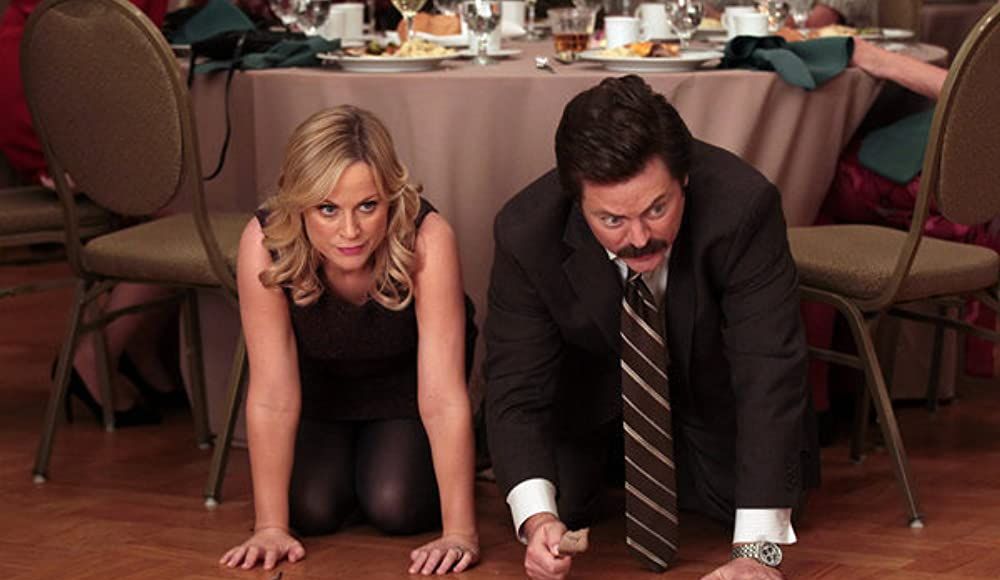 The plot mechanics don't matter much: This is the one where we find out office dork Jerry has a beautiful home life and is married to a woman played by Christie Brinkley. So the joke's on everyone at work who's made a sport of making fun of him. Jerry's doing just fine, thanks. Meanwhile, Ron takes his new girlfriend, Diane, to an Indiana Fine Woodworking Association ceremony where he's receiving a coveted award, and Chris accidentally drinks full-fat egg nog.
Where to Watch: Peacock
---
The Good Wife: "The Decision Tree" (2013)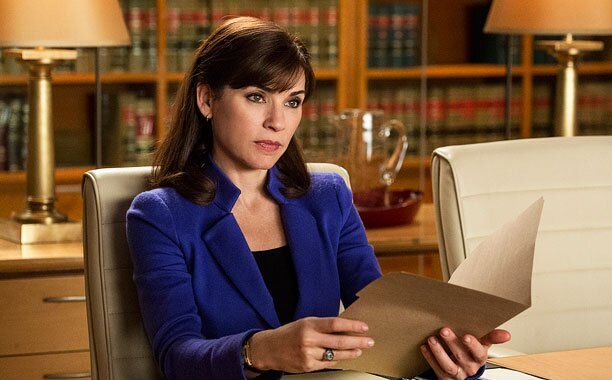 In this episode of the legal/political drama, Alicia Florrick and Cary Agos, having left original firm Lockhart/Gardner to strike out on their own, panic about their new firm's Christmas party. Should Alicia invite her governor ex-husband, Peter, to juice up the celebrity factor? But the real draw in this episode is a face-off between Alicia and her sometime paramour Will, who must question her in court when a former client unexpectedly leaves her $12 million in a contested will. Lots of sexy flashbacks ensue.
Where to Watch: Paramount+
---
Orange Is the New Black: "Can't Fix Crazy" (2013)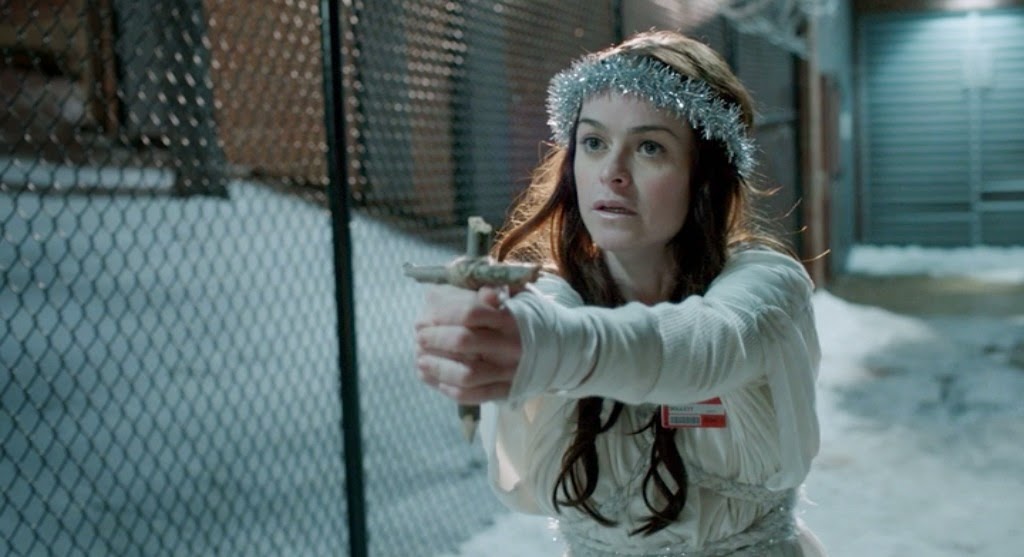 The incendiary first-season finale helped make Netflix a sensation—and also centers on the inmates' Christmas pageant. As in the best of Orange Is the New Black episodes, this one combines humor ("Where in the Nativity story are we supposed to fit a juggler?"), pathos, gripping drama, and harrowing action. The final confrontation between Piper and Pennsatucky, dressed like an angel for the pageant, is unforgettable—and signals the series' ongoing exploration of spiritual issues.
Where to Watch: Netflix
---
Pose: "Giving and Receiving" (2018)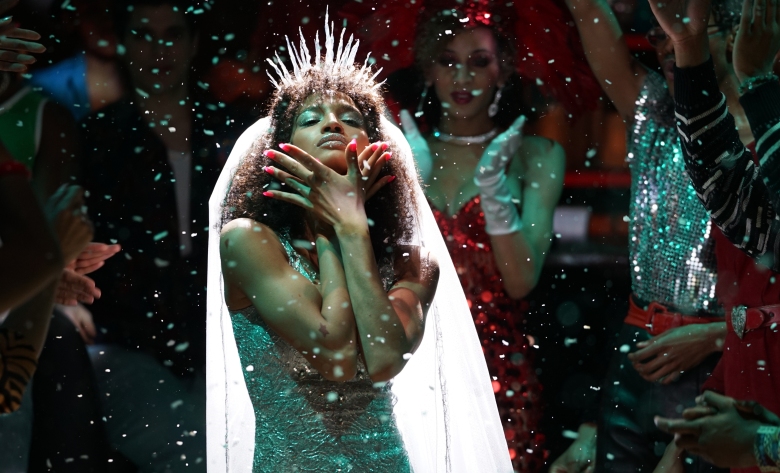 The houses prepare for the Snow Ball, and Elektra prepares for gender confirmation surgery. She doesn't have enough money for it, so there's a caper involving a bell-ringing Salvation Army Santa to help remedy that. A tear-jerking scene in which the House of Evangelista exchange presents, including some emotional red pumps for Angel, caps it all off.
Where to Watch: Netflix
---
Seinfeld: "The Strike" (1997)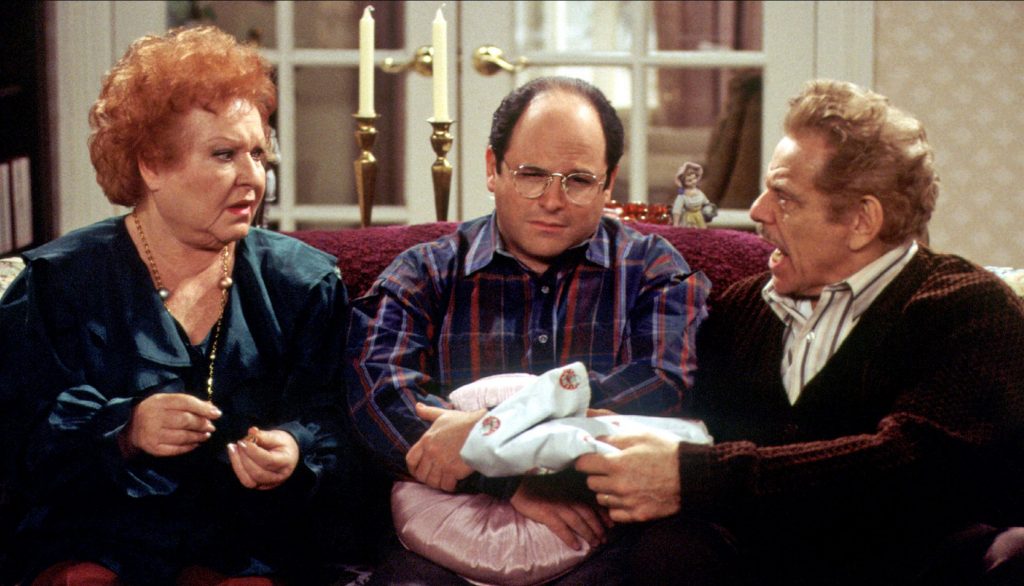 In the ultimate anti-Christmas episode, Seinfeld foists an invented holiday upon the nation: "Festivus." It's the bane of the hapless George Costanza's holiday season, an observance his father conceived for December 23 to oppose the religious and commercial aspects of Christmas. Traditions include gathering around an aluminum pole and a ceremonial "airing of grievances." The date is still widely celebrated by Seinfeld fans (and stores looking for ways to sell aluminum poles) everywhere.
Where to Watch: Netflix
---
The West Wing: "In Excelsis Deo" (1999)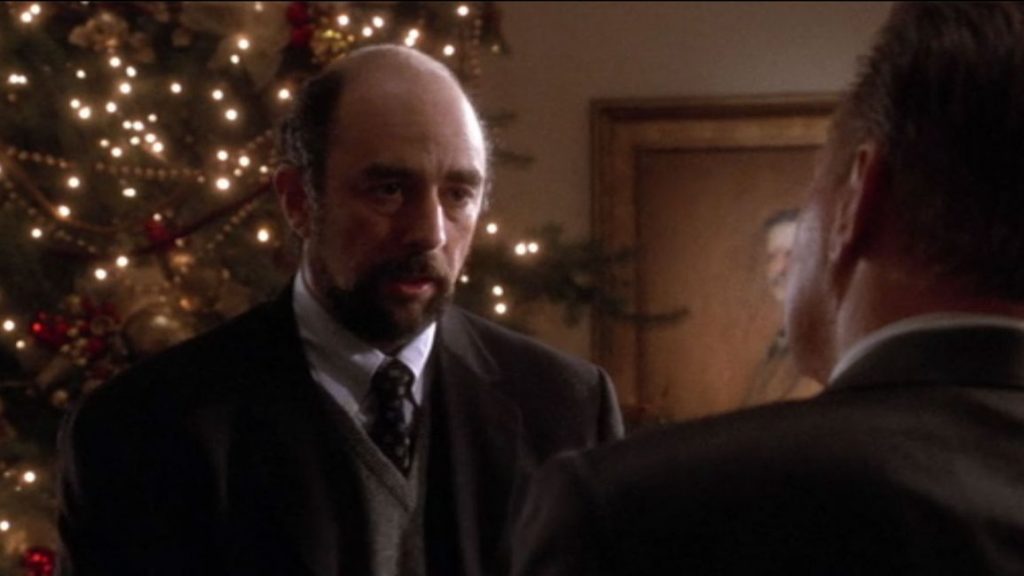 White House Communications Director Toby Ziegler works to ensure a proper burial for a Korean War veteran when the man dies wearing a coat Toby donated to Goodwill—and police contact Toby, who left a business card in the pocket. The episode won Emmys for Richard Schiff, who plays Toby, and for writers Aaron Sorkin and Rick Cleveland.
Where to Watch: HBO Max
---
Degrassi: The Next Generation: "Holiday, Parts 1 & 2" (2003)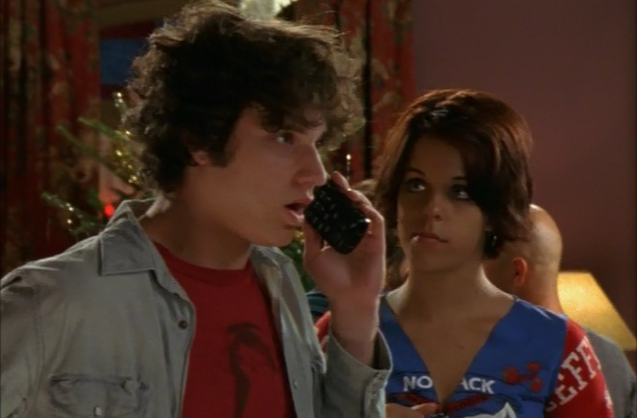 The Canadian high school series was doing socially conscious before it was cool, but it also knew how to bring the soapy drama. Case in point this episode in which two love triangles come to light: one among school rock star Craig, his perfectly alt-rock girlfriend Ashley, and the sweet and bubbly Manny; the other among Craig's stepfather Joey, his demanding girlfriend Sidney, and his high school ex Caitlin. It all comes to a head at Degrassi's holiday pageant. As a bonus, you'll get a few glimpses of a young Drake, who played Jimmy on the series.
Where to Watch: Amazon Prime
---
If you've enjoyed this, please subscribe to the weekly Peabody Finds newsletter here