Four New Members Join Peabody Advisory Board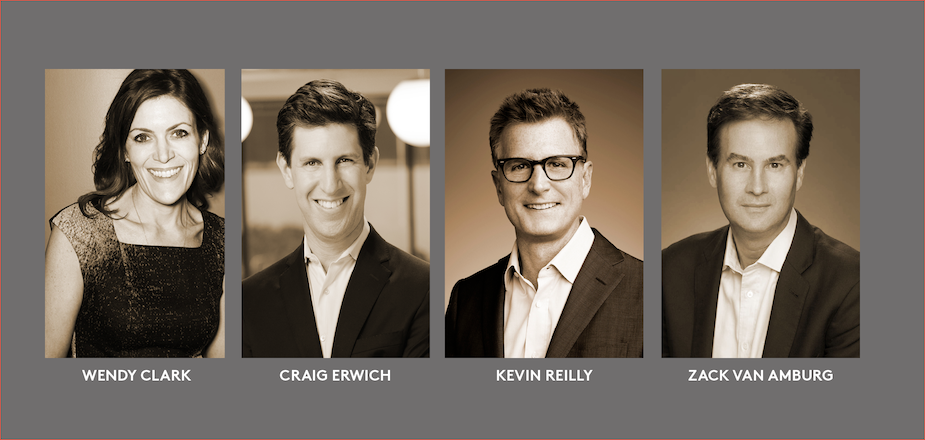 The Peabody Awards has added four new members to its board of advisors, a group of prominent entertainment and media industry leaders providing support for the program's current and future initiatives. Launched in 2015, the board of advisors are separate from the traditional board of jurors that each year evaluates entries and bestows the prestigious awards for excellence in electronic media. The Peabody Awards are based at the University of Georgia's Grady College of Journalism and Mass Communication.
"As we continue to grow Peabody, the board of advisors bring knowledge and insight from their collective experience to help guide our various initiatives in celebrating stories that matter," said Jeffrey Jones, director of the program. "We welcome these new members, and appreciate their efforts in helping Peabody further its goal of becoming a year-round organization that extends the social conversation around transformative media programming."
In addition to advising Jones and his staff, board members sit on various committees including: Branding and Mission; Peabody Archives and Endowments; Original Content and Programming; Internationalization; and Events (including the 76th Awards Show in May).
New advisory board members are (in alphabetical order):
· Wendy Clark, CEO, DDB North America
· Craig Erwich, senior vice president, head of content, Hulu
· Kevin Reilly, president of TBS and TNT, chief creative officer, Turner Entertainment
· Zack Van Amburg, president, Sony Pictures Television
Their fellow members include (in alphabetical order):
· Dick Askin, president and CEO, Askin & Company Inc.
· Neal Baer, M.D., principal, Baer Bones Inc.
· Kevin Beggs, chairman, Lionsgate Television
· Emerson Coleman, vice president, programming, Hearst Television Inc.
· Stephen Davis, executive vice president and chief content officer, Hasbro Inc.
· Nancy Dubuc, president and CEO, A+E Networks
· Susie Fitzgerald, executive vice president, scripted programming, AMC and SundanceTV
· Cliff Gilbert-Lurie, senior partner, Ziffren Brittenham LLP
· Bob Greenblatt, chairman, NBC Entertainment
· Paula Kerger, president and CEO, Public Broadcasting Service
· Roma Khanna, former president of television group and digital, MGM
· Isaac Lee, chief news, entertainment & digital officer, Univision Communications Inc.
· Steve Mosko, former chairman, Sony Pictures Television
· David Nevins, president and CEO, Showtime Networks Inc.
· Andy Patman, co-head, television literary department, Paradigm Talent Agency
· Bruce M. Ramer, partner, Gang, Tyre, Ramer & Brown
· Rick Rosen, head of television, William Morris Endeavor Entertainment
· Ted Sarandos, chief content officer, Netflix
· Bradley Siegel, president, TV One
· David Stapf, president, CBS Television Studios
· Jay Sures, managing director, TV Literary, United Talent Agency
· Dana Walden, co-chairman/CEO, Fox Television Group
· Cyma Zarghami, president, Nickelodeon Networks Group
Peabody Awards
Peabody is an organization dedicated to invigorating people through the power of stories. Founded in 1940, Peabody honors and extends conversation around stories that matter in television, radio and digital media through symposiums, screenings, podcasts and an annual awards ceremony considered to be among the most prestigious in the industry. Peabody gives awards for news, entertainment, documentaries, children's programming, education, interactive programming and public service, which in turn encourage media to reach for and achieve the highest standards. Peabody is administered through the Grady College of Journalism and Mass Communication at the University of Georgia.