Peabody Symposium: "Television History, the Peabody Archives, and Cultural Memory"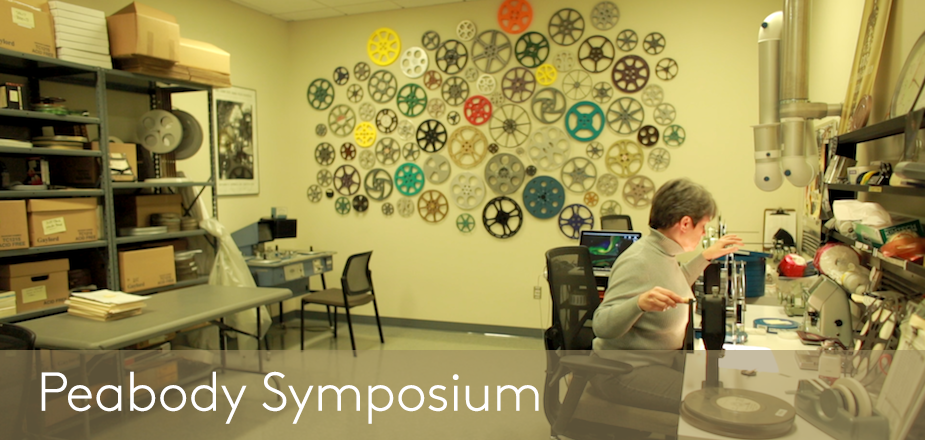 October 28-30, 2016, Richard B. Russell Building, Special Collections Libraries
The Peabody Archives is a unique collection of media history, housing over 90,000 programs submitted to the Peabody Awards since its inception in 1941. What makes the collection exceptional is the breadth of stories through which their contributors have made a claim for historical significance. Items from local broadcasters, in particular, carry special value due to their rareness (Peabody houses the only remaining copies), as well as the fact that local broadcasters were much more active in telling local stories through original programming several decades ago. As such, the Archives is a distinctive repository of cultural memory that challenges our understanding of who and what we are as a nation and what we think we know about television and its role in recent American history.
The Symposium is the second of a two-part conference, and the culmination of a collaborative research initiative based on the Archives and its holdings. Distinguished television studies scholars from across the country will present new research to expand current understandings of American cultural history as seen on TV, and offer a wide range of critical perspectives on what Peabody Awards submissions have to teach us. Some of the topics include: what makes "quality television"; the celebration of our nation's bicentennial; representations of homosexuality; early medical television journalism; conceptions of blackness; fake news; and the War on Drugs. The scholars' findings will be the start of a new series on Television History produced by the University of Georgia Press.
This event is generously supported by the UGA Office of the Vice President for Research, University of Georgia Libraries, Willson Center for Humanities & Arts, Grady College of Journalism & Mass Communication, and University of Georgia Press.
Symposium Schedule
FRIDAY, OCTOBER 28
8:30am – 9:30am
Opening Discussion
9:30am – 12:00pm
The Peabody Archive and the Presentation and Production of TV History
The Archive and The Index: Situational Historiography in the Early Years of Television
Dr. Mark Williams, Dartmouth College
Supporting Materials That Matter: Paratextual Value in the Peabody Archives
Dr. Jonathan Gray, University of Wisconsin – Madison
The Peabody Archive and the Production of American Media History
Dr. Derek Kompare, Southern Methodist University
Discourses of Excellence: What Peabody Awards Submissions Teach Us About "Quality Television"
Dr. Jason Mittell, Middlebury College
1:30pm – 4:00pm
Media Citizens: City, Region, Nation, World
Aggregating Aspirations: What Peabody's Submissions Metadata Tells Us About Local TV History
Dr. Eric Hoyt, University of Wisconsin – Madison
Strikes, Riots, and Muggers: How Mayor Lindsay Weathered New York City's Image Crisis
Dr. Heather Hendershot, Massachusetts Institute of Technology
Bicentennial Programming in the Peabody Archive
Dr. Christine Becker, University of Notre Dame
Lucas Hatlen, University of Georgia
INTERTEL: From International Acclaim to Oblivion, and Back
Dr. Michele Hilmes, University of Wisconsin – Madison
4:00pm – 5:00pm
Reception
SATURDAY, OCTOBER 29
8:30am – 9:30am
Opening Discussion
9:30am – 12:00pm
Reassessing Boundaries of Subjectivity and Visibility
Peabody Camp: Fifties Contenders and Queer Gender
Dr. Quinn Miller, University of Oregon
Fugitive Subjectivities
Dr. Herman Gray, University of California, Santa Cruz
Local News in the 1970s and the Emergence of Gay Visibility
Dr. Susan J. Douglas, University of Michigan
Reframing Black Power Television: Ossie Davis and the Politics of Representation on Public Television
Dr. Allison Perlman, University of California, Irvine
1:30pm – 4:00pm
Revisiting Strategies of Public Service
"Medical School of the World:" Education and Public Service through Post-War Medical Television
Dr. Susan Murray, New York University
Serious Fake News on Local Television in the 1970s and 1980s
Dr. Ethan Thompson, Texas A&M University, Corpus Christi
Documenting Illegal Drugs in the 1980s
Dr. Deborah L. Jaramillo, Boston University
SUNDAY, OCTOBER 30
9:00am – 11:00am
Closing Discussion with responses by Dr. Lynn Spigel, Northwestern University