Screening and Q&A with "American Vandal" Creators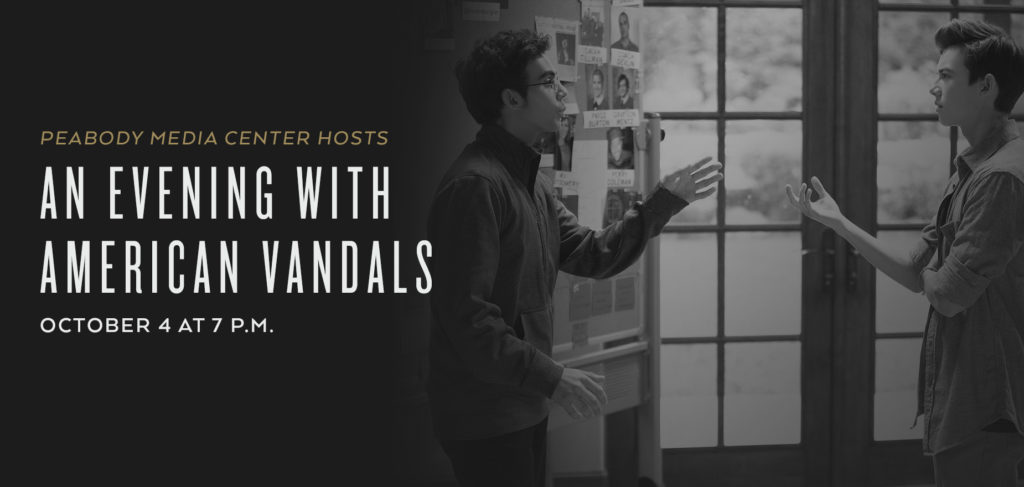 The Peabody Media Center and the Peabody Student Honor Board will host "An Evening with American Vandals" at 7 p.m. on Thursday, Oct. 4 at the Tate Student Center Theater. Following a screening of an episode from season two of "American Vandal," creators of the Netflix Original Series will participate in a question-and-answer session. The event is free and open to the public. The Peabody Media Center is based at the Grady College of Journalism and Mass Communication at the University of Georgia.
The first season of "American Vandal," a true-crime parody set in a California high school, was honored with a Peabody Award earlier this year for providing "an unexpectedly profound lesson of what is unearthed when a quest for the truth loses its way." Tony Yacenda, co-creator, and Ari Lubet, executive producer, will be on hand to discuss the creative process, including the influence of true-crime documentaries on their work.
In 2011, Tony Yacenda started Woodhead Entertainment through which he produced several digital originals that garnered more than 12 million views and kickstarted his career. He went on to write and direct content for Activision, Maker Studios, Google, CollegeHumor, and Yahoo, where he began his parody 30 for 30 series with "30 for 30: The Space Jam." Yacenda is also a prolific music video director, best known for his directing and branded content for comic/rapper Lil Dicky. Currently, Yacenda is in post-production on the second season of "American Vandal," for which he serves as writer, executive producer, and director.
Ari Lubet is a literary manager and producer at 3 Arts Entertainment. After graduating from film school at the University of Wisconsin in 2007, Lubet began his career in the film industry as an assistant to a literary agent at Creative Artists Agency and to Michael Sugar at Anonymous Content. He represents a wide array of talent, including Tony Yacenda, Brandon Dermer ("What Would Diplo Do?"), and Andy Sipes & Matt Mariska ("Dallas & Robo"). Additionally, Lubet represents filmmakers Minhal Baig ("Hala"), Nosipho Dumisa ("Number 37"), and Crazy Pictures ("The Unthinkable"). In comics, Lubet represents Gail Simone, Tim Seeley, Ales Kot, and Andrew Aydin, who created "March: Book Three," the graphic novel that chronicles the life of U.S. Rep. John Lewis, which won a 2016 National Book Award.
The Peabody Student Honor Board will serve as ambassadors at the Oct. 4 event. The board is currently recruiting new members and applications are available here. The deadline to apply is Friday, Oct. 5.