73rd Annual Peabody Award Ceremony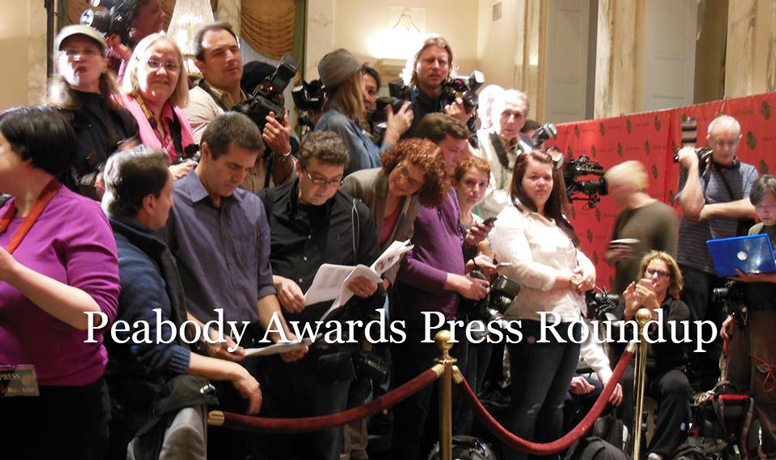 The 73rd Annual Peabody Awards were held in New York City at the Waldorf Astoria on May 19. Ira Glass was as charming and engaging as always as the event's emcee, presenting awards to media makers who travelled from as far as Pakistan and the Philippines to participate in the festivities. Here is just a sampling of some of the press coverage.
The publication highlighted the Peabody Awards rigorous judging process in their article, noting that all winners must be unanimously agreed upon by the Peabody Board. WSJ also talked to Scandal star Tony Goldwyn who called receiving the award "a surprise and an honor." Subversive comic Keegan-Michael Key of "Key & Peele" also answered a question about what the duo has in mind for dealing with Donald Sterling controversy: "The sumptuous meal that might be ahead is the opportunity to write an evergreen scene about the phenomenon of men in their eighties acting with this weird impunity because they don'st understand the world has changed."
Reflecting the press's interest in Scandal receiving a Peabody, TV blog Lost Remote wrote about Twitter's huge influence on programming. Scandal star Jeff Perry told the blog that his boss, show runner Shonda Rhimes, and costar Kerry Washington urged the cast to get on Twitter to live tweet. "It made our fans, who immediately loved the show, feel enfranchised in a way, and to feel that they were apart of something, that they had ownership over the show, and had a direct line to us'Ķwhich they do. And that just grew exponentially."
Tom Brokaw won an individual Peabody Award for work across his entire career. Brokaw responded to questions about the cancer treatment he's been undergoing: "I think I'sm going to be okay. I'sve approached it [dealing with cancer] both in human terms, and as a journalist." He went on to say that although there are "no guarantees" he sees "a larger light at the end of the tunnel." Brokaw will be covering the 70th anniversary of D-Day for NBC Nightly News.
Natasha Lyonne sent out this picture from the event of herself alongside here Orange is the New Black cast mates.
Here's to the ladies who brunch. #peabodyawards@thedanieb@amoore9@DashPolanco@selenis_leyva@OITNBpic.twitter.com/tMZzPgoFRE

— natasha lyonne (@nlyonne) May 19, 2014
Some of the other coverage included: