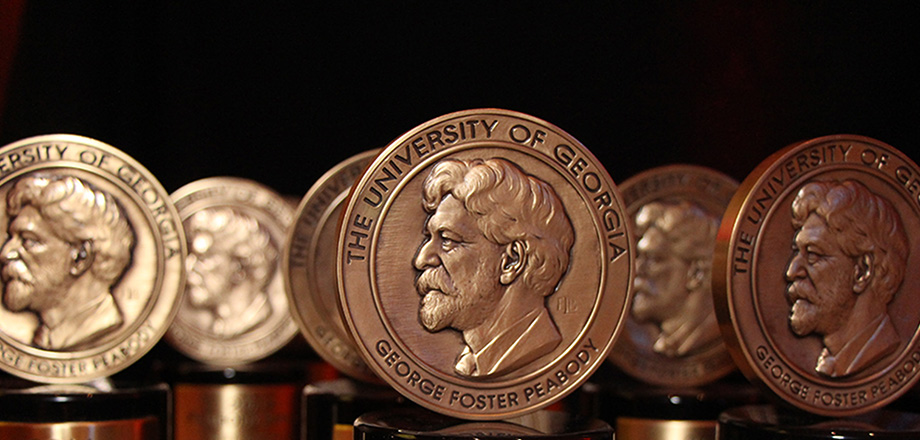 For the first time in its 75-year history, 60 finalists have been named by the Peabody Awards' Board of Jurors for 2015, from which a set number of winning programs will be chosen. To be known as The Peabody 30, these selections will be unveiled beginning next week, and honored at the 75th anniversary Peabody ceremony on May 21 in New York.
The Peabody 30 will be revealed in a succession of announcements by category, beginning April 19 with the news, radio/podcast, public service and Web winners via Facebook Live. Entertainment and children's/youth winners will be announced on The Today Show on April 21, and documentary and educational winners via Facebook Live on April 26.
The gala will be televised in a 90-minute special, "The 75th Anniversary Peabody Awards," airing on Pivot, Monday, June 6 (8 p.m. ET/PT).
The 60 Peabody Awards Finalists (network/platform in parentheses)
Abdi and the Golden Ticket (This American Life)
This American Life
Radio/Podcast
All In with Chris Hayes: Back to Baltimore (MSNBC)
MSNBC'sS All in with Chris Hayes
News
American Experience: Last Days In Vietnam (PBS)
A Moxie Firecracker Production for American Experience, WGBH
Documentary
American Experience: Walt Disney (PBS)
A Sarah Colt Productions Film with the participation of Arte for American Experience, WGBH
Documentary
Beasts of No Nation (Netflix)
Red Crown Productions, Participant Media, Come What May Productions, New Balloon
Entertainment
black-ish (ABC)
ABC Studios
Entertainment
Book of Negroes (BET Networks)
Conquering Lion Pictures
Entertainment
Burning Questions: WTAE Investigates Fire Response Times (WTAE-TV)
WTAE-TV, Pittsburgh
News
Catastrophe (Amazon Video)
Avalon Television/Amazon Studios
Entertainment
CNN's Coverage of Guns in America (CNN & CNN Digital)
CNN
News
Cruel and Unusual: The Texas Prison Crisis (WFAA-TV)
WFAA-TV, Dallas
News
Desperate Journey (PBS, WETA-TV)
PBS NewsHour
News
Deutschland 83 (SundanceTV)
Fremantle International/Kino Lorber
Entertainment
Divided by Law (KUAT-TV)
Arizona Public Media
Radio/Podcast
Do Not Track (donottrack-doc.com)
Upian, National Film Board of Canada, Arte, Bayerischer Rundfunk
Web
European Migrant Crisis/A New Life in Europe/Year of Migration (BBC News, BBC Radio, BBC World Service)
BBC News, BBC World Service, BBC Radio
News
Fargo (FX Networks)
FX Productions, MGM Studios
Entertainment
Fresh Off The Boat (ABC)
20th Century Fox Television
Entertainment
Gardeners of Eden (Pivot)
Ganesh Forever
Documentary
Get Real – Heart of the Haze (Channel NewsAsia, Mediacorp Pte Ltd)
Channel NewsAsia, Mediacorp Pte Ltd
Public Service
Glen Campbell'Ķ I'll Be Me (CNN)
PCH Films
Documentary
Going Clear: Scientology and The Prison Of Belief (HBO)
HBO Documentary Films in association with Sky Atlantic and Jigsaw Productions
Documentary
Gravity Falls (Disney XD)
Disney Television Animation
Children's/Youth
Growing Up Trans (PBS/WGBH)
FRONTLINE
Documentary
How to Dance in Ohio (HBO)
Gidalya Pictures in association with HBO Documentary Films and Blumhouse Productions
Documentary
Independent Lens: 1971 (PBS)
Maximum Pictures LLC and the Independent Television Service in Association with Big Mouth Productions, Motto Pictures and Fork Films
Documentary
Independent Lens: India's Daughter (PBS)
Assassin Films, BBC Storyville, UK-INDIA, and Tathagat Films in association with Gamini Plyatissa Foundation, Vital Voices Global Partnership, DR, Plus Pictures Aps, CBC News Network, SVT, IKON, RTS, SRF and RAI
Documentary
Independent Lens: Through A Lens Darkly: Black Photographers and the Emergence of a People (PBS)
Through a Lens Darkly, LLC, and the Independent Television Service (ITVS), produced in association with the National Black Programming Consortium
Documentary
Inheritance (PBS/WGBH)
FRONTLINE
Web
Injured Heroes, Broken Promises (KXAS-TV, NBC 5)
KXAS-TV, NBC 5, Dallas-Ft. Worth
News
Invisibilia (NPR)
National Public Radio
Radio/Podcast
ISIS in Afghanistan (PBS/WGBH)
FRONTLINE
Documentary
Katie Morag (Cbeebies)
Move on Up
Children's/Youth
Listen to Me Marlon (Showtime)
Showtime Documentary Films Presents, A Passions Pictures Production, Cutler Productions
Documentary
Marvel's Jessica Jones (Netflix)
Marvel Television in association with ABC Studios for Netflix
Entertainment
Master of None (Netflix)
Universal TV, Oh Brudder Productions, Alan Yang Productions, Fermulon
Entertainment
Meet the Composer (WQXR.org)
WQXR's Q2 Music
Radio/Podcast
MR. ROBOT (USA Network)
Universal Cable Productions
Entertainment
Night Will Fall (HBO)
Spring Films, Angel TV, and RatPac Documentary Films in association with HBO Documentary Films
Documentary
911: Lost On The Line (WXIA-TV)
WXIA-TV
News
POV: Don't Tell Anyone (No Le Digas a Nadie) (PBS)
American Documentary Inc. | POV
Documentary
Precious Lives (WUWM – Milwaukee Public Radio, WNOV, Milwaukee Journal Sentinel, Wisconsin Center for Investigative Journalism)
371 Productions
Radio/Podcast
Real Sports with Bryant Gumbel: The Killing Fields (HBO)
Real Sports with Bryant Gumbel
News
Secret Mustard Gas Experiments (NPR News)
National Public Radio
News
60 Minutes: A Crime Against Humanity (CBS)
CBS News 60 Minutes
News
60 Minutes: The Death Penalty in America (CBS)
CBS News 60 Minutes
News
The Case for School Desegregation Today (This American Life)
This American Life
Radio/Podcast
The Cosby Accusers Speak (NBC)
Dateline NBC
News
The Counted: People killed by police in the United States (theguardian.com/us-news/series/counted-us-police-killings/)
The Guardian US
Web
The Jinx: The Life and Deaths of Robert Durst (HBO)
HBO Documentary Films in association with Good Things Acquisition Company
Documentary
The Laquan McDonald Investigation (WMAQ-TV)
WMAQ-TV, Chicago
News
The Leftovers (HBO)
HBO Entertainment and Warner Bros Television in association with Damon Lindelof Productions and Film 44
Entertainment
The Memory Palace (thememorypalace.us, Radiotopia)
Nate Dimeo
Radio/Podcast
The Rain Forest Was Here – Deforestation in Brazil's Amazon (NPR Broadcast + Digital npr.org)
National Public Radio
Radio/Podcast
Transparent (Amazon Video)
Amazon Studios
Entertainment
UnREAL (Lifetime)
A+E Studios
Entertainment
VEEP (HBO)
HBO Entertainment in association with Dundee Productions
Entertainment
What Happened, Miss Simone? (Netflix)
A Radical Media Production in association with Moxie Firecracker for Netflix
Documentary
Wild Kratts (PBS Kids)
Kratt Brothers Company and 9 Story Media Group
Children's/Youth Programming
Wolf Hall (PBS)
A Playground Entertainment and Company Pictures Production for BBC and MASTERPIECE in association with BBC Worldwide, Altus Media and Prescience
Entertainment