2015 Individual and Institutional Honorees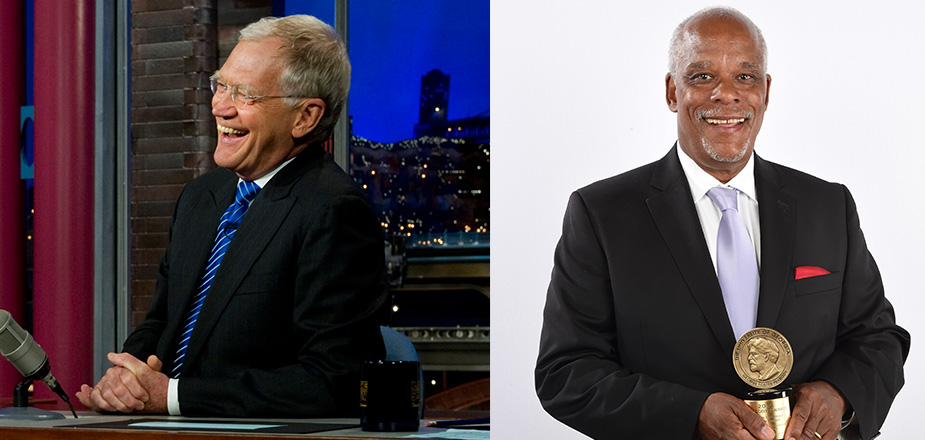 Three individual and institutional winners have been announced for Peabody Awards, which are based out of the University of Georgia. Late-night titan David Letterman and documentary filmmaker Stanley Nelson Jr. will be recognized for their contributions to electronic media, and The Daily Show with Jon Stewart will receive an institutional Peabody.
Peabody Awards Director Jeffrey P. Jones said, "What better way to celebrate the 75th Anniversary of the Peabody Awards than to recognize two individuals and a television program that have transformed the cultural landscape through their unique contributions."
The gala will be televised in a 90-minute special, The 75th Anniversary Peabody Awards, airing on Pivot, Monday, June 6 (8 p.m. ET/PT).
About the individual and institutional winners
With a gap-toothed grin and a mind full of mischief, David Letterman sauntered onto the late-night TV landscape in 1982, ripped it up and remodeled it in the image we see now on every network and in every late-night host. Letterman's irreverence, his outlandish gags and his prickly personality all resonated with wary, post-modern viewers. But if he was a brat in the hilarious early years, he literally grew up on the air, maturing into a late-night statesman as comfortable with a sincere commentary as a stupid pet trick. He came to us an enfant terrible, he retired a legend.
A prolific documentary filmmaker, a seeker of truth and justice, Stanley Nelson Jr. has examined the history and experience of African-Americans in a powerful, revelatory body of work that includes three Peabody winners–The Murder of Emmet Till, Freedom Summer and Freedom Riders —and ranges from Jonestown: The Life and Death of Peoples Temple to Sweet Honey in the Rock: Raise Your Voice. A MacArthur Genius Fellow, Nelson is also co-founder of Firelight Media, a nonprofit organization dedicated to developing young documentary filmmakers who advance underrepresented stories.
For decades there had been programs on television that spoofed newsmakers and current events, but The Daily Show with Jon Stewart was something different, transformative. In an era of politicized, echo-chamber news channels and traditional-journalism timidity, Stewart and a cohort of talented farceurs, several of whom have also become household names,' didn't just make jokes about news, they became a crucial source of news for citizens united in their disappointment and disgust with politics and cable news. While The Daily Show is a program that existed before and after Jon Stewart's tenure, there is little doubt that Stewart and his team, over the course of 17 years, made a lasting impact on political satire, television comedy and even politics itself.