Saluting Legend Barbara Walters and Other Female News Pioneers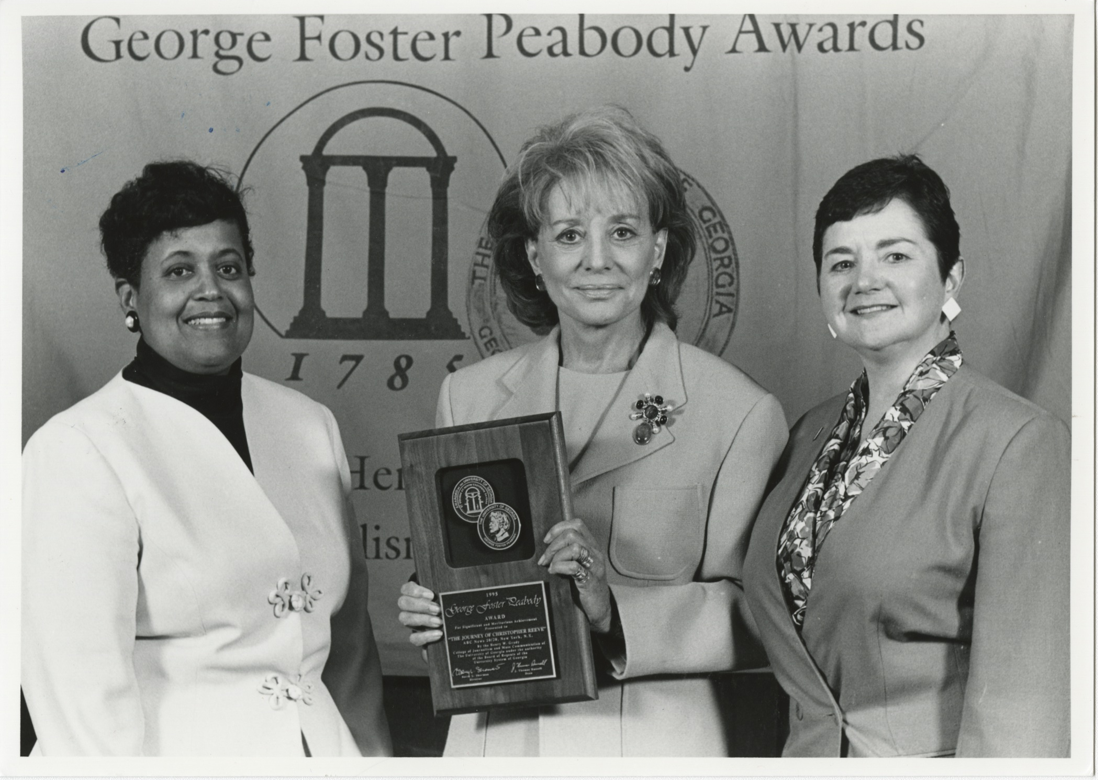 Welcome to Peabody Finds, the weekly newsletter for the Peabody Awards, offering our recommendations for powerful and thought-provoking media you should consider engaging. The newsletter offers deeper dives into Peabody-recognized programming (and beyond), with commentary, insights, and additional materials for context and expanded engagements. If you like it, subscribe here!
Saluting Legend Barbara Walters and Other Female News Pioneers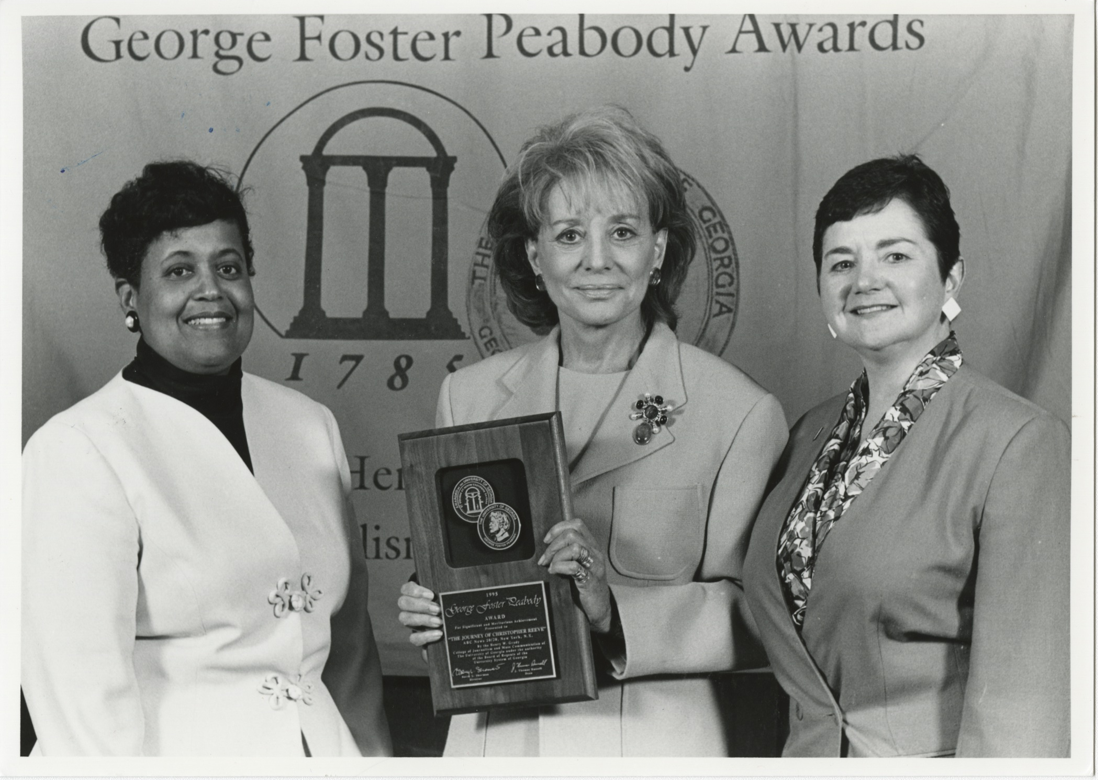 Pictured with Ms. Walters in 1996, Jan Dates, former Peabody board member and Louise Benjamin, former Peabody Associate Director.
Here's a story about what it's like to be at a party with a legendary newswoman.
I was huddled in the corner of ABC's Times Square Studios about 15 years ago with a few female colleagues from Entertainment Weekly magazine, all of us in our 30s. We were enjoying the free white wine at the network's Christmas party when I noticed Barbara Walters, tiny and glamorous in a suit, nearby. I was excited; she was a lifelong idol of mine, a reason I could see myself getting into journalism and interviewing celebrities.
Then I realized: She was walking right toward us, with purpose. While we were all still stunned by her mere presence, she sidled right up to our cocktail table, said hello, then asked, "How's your sex life?"
This is how an iconic conversation starter starts a conversation.
It turned out she was working on a story about young women's sex lives and had decided to use the party to do a little research. We usually went to these network things to say hi to a few publicists we knew, drink the wine, and then leave. We weren't routinely chatting up famous people, much less people of Walters' stature.
I would have been nervous if you'd told me in advance that I'd be talking to Barbara Walters. I would have fretted about what I would say, probably even about what I would wear. But we had a fun, easy conversation with her because she had been so blunt and bold, because she took charge but wasn't overbearing, and also, most importantly, because she seemed genuinely interested. There's something about the way she looks at you, quiet, never breaking eye contact, waiting to hear what youhave to say.
She was an absolute master because she could wield all of these qualities so deftly—aggressive when necessary, soft when warranted, always listening and driven by curiosity. This isn't as easy as she makes it look. Interviewing is tough, and many of us have crashed on impact, only to walk away wondering why we acted so weird or talked so much or couldn't connect with our subject. She had the secret: She cared, and she listened.
Walters was a female TV news pioneer, no question. She started appearing on air in 1964. She was the Today show's first female co-host, and her five-year, $5 million contract with ABC in 1976 made her the highest-paid news anchor at the time, male or female. She perfected the art of the high-profile interview, making it her signature move in a way no one since has bested. She could interview anyone, from a disgraced President Richard Nixon ("Are you sorry you didn't burn the tapes?") and Vladimir Putin to Robert Kardashian and Oprah Winfrey.
While her womanhood was definitely not the reason she reached any of these milestones, it was what made them so important: Countless girls, including me, saw in her a career path that may not have seemed accessible to them otherwise. She acknowledged the importance of female voices herself, when she created the talk show The View in 1997 as a place for women to discuss the issues of the day. Debate for yourselves how much sexism and internalized misogyny have played a role in that show's more recent reputation as a hotbed of cattiness and gossip, but she was onto something.
A friend of mine recently sent our five-woman text chain a photo of a PBS NewsHour segment featuring Yamiche Alcindor, Lisa Desjardins, and Amna Nawaz and said, "This is what I want my new analysis to look like." She was right—it's striking to see, even as it becomes closer to the norm than the exception. (Nawaz was recently named co-anchor of the program with Geoff Bennett, replacing another pioneer, Judy Woodruff, upon Woodruff's retirement.)
Other women came before Walters. (Did you know the 75-year-old Meet the Press, the longest-running program in TV history, was created by a woman? More on that below.) Others will come afterwards, like those women on PBS. So much progress was made in Walters' lifetime, in large part because of her, and there's still more to go. In honor of Walters, here are some of the best moments in female broadcaster history.
---