Industry professionals join board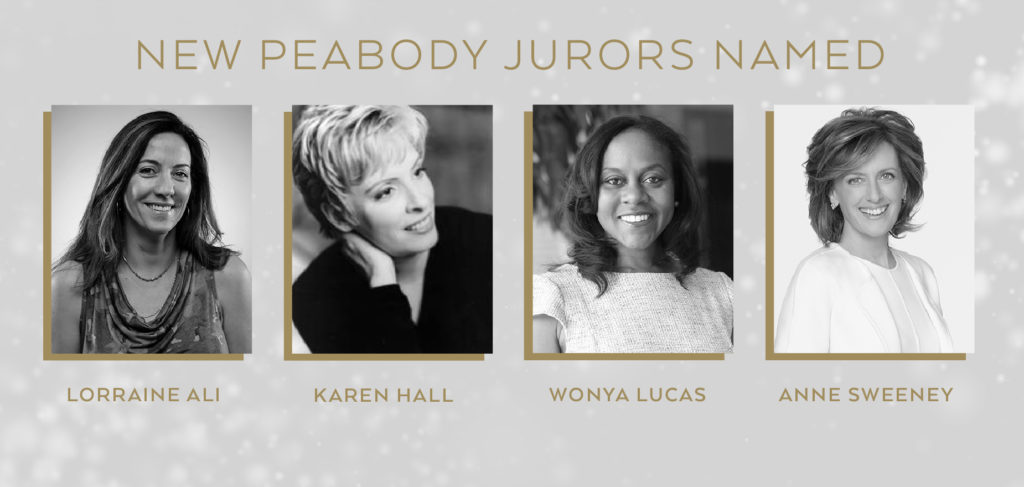 Peabody has appointed Lorraine Ali, Karen Hall, Wonya Lucas and Anne Sweeney to its board of jurors, which each year evaluates and bestows the Peabody Awards for excellence in television, radio and digital media. The program is based in the Grady College of Journalism and Mass Communication at the University of Georgia.
"From writing and producing to network leadership and marketing, the distinguished careers of these professionals represent diverse experiences that inform their understanding of media excellence and what constitutes stories that matter," said Jeffrey Jones, executive director of the Peabody Awards.
Lorraine Ali is a television critic with The Los Angeles Times where she covers media, culture and American Muslim issues. Ali is an award-winning journalist who before joining the Times in 2011 was a culture writer and music critic with Newsweek and a senior critic with Rolling Stone. Ali was one of a few prominent female pop music critics in American journalism who rose to prominence in the 1990s and 2000s. Her work has appeared in publications such as The New York Times, SPIN, GQ and The Hollywood Reporter, and her "West Bank Hard Core" feature was published in Da Capo's "Best Music Writing" anthology. She's appeared as an expert voice on radio and television programs including NPR, Oprah, Charlie Rose, CNN, BBC and Al Jazeera. Her writing awards include Best Online Feature from the New York Association of Black Journalists, an Excellence in Journalism Award from the American Arab Journalists Association, and Music Journalist of the Year from the Music Journalism Awards.
Karen Hall is a veteran television writer, producer, and creative consultant. She has worked on numerous series including Peabody Award-winners "M*A*S*H," "Hill Street Blues," "Roseanne" and "The Good Wife." Additional credits include "Moonlighting," "Grace Under Fire" and "Judging Amy." She also wrote individual episodes for "Northern Exposure," "I'll Fly Away," "Cupid" and HBO's "Maximum Security." Hall's TV movies and miniseries writing includes "Toughlove," "The Betty Ford Story," "The Women of Brewster Place" and "Darkness Before Dawn." She has received seven Emmy Award nominations, as well as the Humanitas Prize, the Women in Film Luminas Award, and the Writers Guild of America Award. Her novel, "Dark Debts," recently republished, was a Book of the Month Club main selection when first published in 1996.
Wonya Lucas is president and CEO of Public Broadcasting Atlanta, where she oversees the city's NPR (WABE) and PBS (ATL PBS) stations and three digital properties. Under her leadership, WABE has seen a significant increase in award-winning local coverage and community engagement, as well as the launch of two national podcasts. Previously, Lucas was president and CEO for TV One, a network focused on the African-American experience. She has also held several positions at Discovery Communications, including executive vice president and chief operating officer for Discovery Channel and Science Channel, and global chief marketing officer (CMO). As CMO, she helped launch three networks including OWN (Oprah Winfrey Network) and Investigation Discovery (ID). Prior to joining Discovery Communications, Lucas served as general manager and executive vice president of The Weather Channel Networks, where she was responsible for corporate strategy and development and strategic marketing for The Weather Channel, Weather Channel radio and weather.com. Prior to that, Lucas held several positions at Turner Broadcasting System, including senior vice president of strategic marketing for cnn.com, CNN radio and CNN Networks Worldwide, vice president of Business Operations and Network Development for Turner Entertainment and vice president of Entertainment Marketing for TNT.
Anne Sweeney is a member of the board of directors at Netflix, the board of trustees at the Mayo Clinic, and a Dean's Distinguished Fellow at the Harvard University Graduate School of Education. Prior to embarking on a new chapter in the entertainment industry in 2015, she was co-chair, Disney Media Networks, and president, Disney/ABC Television Group, which includes The Walt Disney Company's global entertainment and news television properties, owned television stations group, as well as radio and publishing businesses. Sweeney joined The Walt Disney Company in February 1996 as president of Disney Channel and executive vice president of Disney/ABC Cable Networks. Previously she was chairman and CEO of FX Networks, Inc. During her tenure there, she presided over the launch of two basic cable networks, entertainment-focused FX and FXM: Movies from Fox, Hollywood's first studio-based movie network. Before joining Fox, Sweeney spent 12 years at Nickelodeon/Nick at Nite in various executive positions. She has repeatedly been named to The Hollywood Reporter's "Most Powerful Woman in Entertainment" list, one of the "50 Most Powerful Women in Business" by Fortune and one of "The World's 100 Most Powerful Women" by Forbes.
Peabody also announced that Eric Deggans, television critic for National Public Radio, will chair the board of jurors. Deggans, who was first appointed to the board in 2013, is the first African-American to hold the position.
The Peabody Board of Jurors is made up of media industry professionals, media scholars, critics and journalists, appointed by the program's executive director to a renewable three-year term of service. This mix of top-level thought leaders chooses 60 nominees from which they then select The Peabody 30—the best programs of the year that achieve the highest standards in media across genre and platforms.
The current board of jurors also includes:
· Marcy Carsey, television producer, co-founder, Carsey-Werner Company
· Herman Gray, emeritus professor of sociology, University of California at Santa Cruz
· Jonathan Gray, professor of media and cultural studies, University of Wisconsin-Madison
· Kathy Im, director of journalism and media, John D. and Catherine T. MacArthur Foundation
· Henry Jenkins, professor of communication, journalism, cinematic arts and education, University of Southern California
· Simon Kilmurry, executive director, International Documentary Association
· Kim Masters, editor-at-large, The Hollywood Reporter, host, KCRW's "The Business"
· Mark McKinnon, television producer, political analyst
· Mike Monello, co-founder, Campfire
· Martha Nelson, fellow, Advanced Leadership Institute, Harvard University
· Monica Pearson, retired news anchor, WSB-TV Atlanta
· Naibe Reynoso, co-creator, executive producer and host, "The Trend Talk Show"
· John Seigenthaler, senior counsel, Finn Partners; former news anchor, NBC News