Peabody Announces News and Documentary Nominees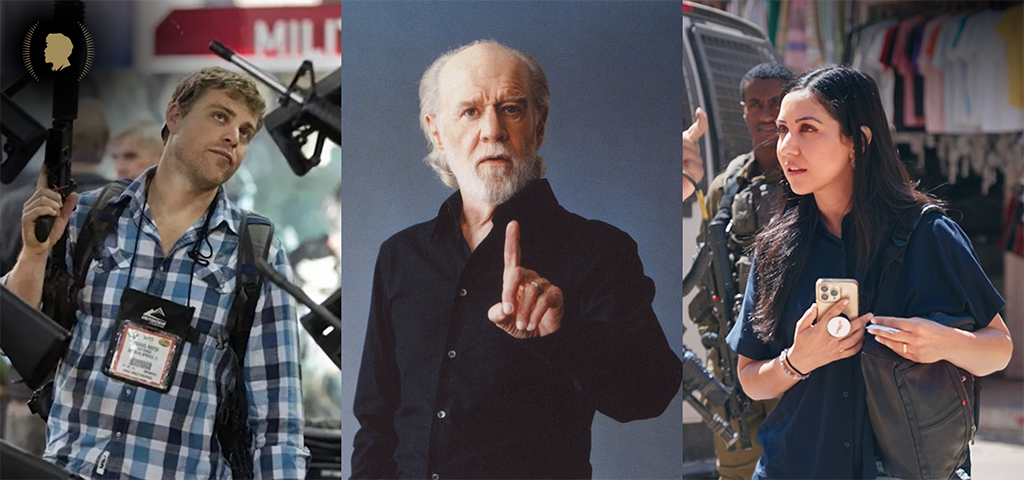 Peabody Awards Announce 27 Nominees for the Documentary and News Categories
Honor Celebrates Best Storytelling Across Broadcasting and Streaming Media
Winners to be Announced on May 9 and Celebrated With a Star-Studded Ceremony on June 11 in Los Angeles
ATHENS, GA (April 11, 2023) – The Peabody Awards Board of Jurors today announced the 27 nominees for the Documentary and News categories selected to represent the most compelling and empowering stories released in 2022 across broadcasting and streaming media. The nominees were chosen by a unanimous vote of 17 jurors from over 1,200 entries from television, podcasts/radio and the web in entertainment, news, documentary, arts, children's/youth, public service and multimedia programming.
The nominees for the remaining categories – including Entertainment, Arts, Children's/Youth, Podcast/Radio, Interactive & Immersive, and Public Service – will be announced on Thursday, April 13. The winners of the 83rd annual Peabody Awards will be announced on May 9 and then celebrated on Sunday, June 11 at a ceremony at the Beverly Wilshire Hotel in Los Angeles. This will be Peabody's first in-person ceremony since 2019, as well as the first time ever in its history that the Awards will take place in Los Angeles.
"Whether covering breaking news on the front lines or illuminating historically significant figures, these documentary and news nominees told compelling stories that kept us informed and enriched our understanding of the world," said Jeffrey Jones, executive director of Peabody. "Among a wide selection of excellent stories, Peabody is proud to celebrate each and every one of these worthy nominees."
"Shining light on a wide range of people, places, and struggles, these nominees demonstrate the best of journalism and the best of storytelling," Jones added. "We look forward to honoring the winners in Los Angeles, a first for our storied organization."
The Peabody Award nominees for Documentary and News, listed by category and in alphabetical order (network/platform in parentheses) are:
DOCUMENTARY
"Aftershock"   
After the deaths of two young women from childbirth complications, their families galvanize activists, birth workers, and physicians to face America's grave maternal health crisis in this eye-opening film.
A Malka Films and Madstone Company Inc Production In Association with Good Gravy Films and JustFilms | Ford Foundation Impact Partners Presents (Hulu)
"Batata"   
This unprecedented film spans ten years in the life of Syrian migrant worker Maria, a Muslim woman, and her journey from days of farming potatoes to life in a refugee camp in Lebanon, demonstrating the spirit of a woman who puts family above all else.
Saaren Films Inc., Six Island Productions Inc., Musa Dagh Productions (Streaming platforms)
"Children of the Taliban"   
In this affecting documentary, viewers meet four children—two boys and two girls—living in Kabul, Afghanistan, and learn how dramatically their lives have changed since U.S. troops withdrew from the country and the Taliban came to power. While the girls face the obvious serious difficulties under the patriarchal regime, some of the most chilling footage shows how young boys are radicalized.
Moondogs Films production (Channel 4)
"The Dreamlife of Georgie Stone"   
This short documentary spans most of the 22-year life of Georgie Stone, a young Australian trans activist, revealing her memories as she grows up, affirms her gender, finds her voice, fights to change laws and public perception, and becomes a role model for other trans kids throughout the world.
A Netflix Documentary in association with Screen Australia / A Closer Production (Netflix)
"George Carlin's American Dream"   
This two-part documentary from Judd Apatow and Michael Bonfiglio illustrates how legendary comedian George Carlin evolved from late-night-standup hack to a wordsmith, a countercultural hero, and, ultimately, a truth-teller who used dark humor to illuminate key issues of our time like sexual assault and climate change. Archival footage of Carlin himself, as well as extraordinary access to his diaries and letters, helps to paint a complete portrait of a man who wouldn't settle for anything less than expressing his authentic voice.
Apatow/Rise Films Production in association with Pulse Films (HBO Max)
"Independent Lens: Missing in Brooks County"   
Migrants go missing in the rural area of Brooks County, Texas, more than anywhere else in the United States, and activist Eddie Canales is the one who helps their families find them. PBS' documentary profiles Canales in this subtle, specific, and alarming take on U.S. immigration.
ITVS, Fork Films, Engel Entertainment (PBS)
"Independent Lens: Writing with Fire"   
Fearless journalists staff India's only all-female newspaper in an intensely patriarchal landscape, painting a portrait of courage and hope. Filmmakers Rintu Thomas and Sushmit Ghosh spent four years in India's Uttar Pradesh state capturing the women's daily work lives as well as the larger context in which they operate: India's caste system and its far-right religious movement.
Black Ticket Films (PBS)
"Lucy and Desi"   
Director Amy Poehler explores the surprising story of how Lucille Ball and Desi Arnaz, a woman and a Cuban man, became TV's most powerful couple in the 1950s, transformed numerous aspects of television production, and pioneered the American sitcom as we know it.
Amazon Studios, Imagine Documentaries, White Horse Pictures in association with Paper Kite Productions and Diamond Docs (Prime Video)
"Mariupol: The People's Story"   
This terrifyingly crucial feature-length documentary tells the story of the essential coastal Ukrainian city of Mariupol through those who lived there as it was destroyed by Russia.
Top Hat Productions / Hayloft Productions (BBC Select)
"POV: Let the Little Light Shine"   
This captivating documentary tells the story of a South Side Chicago neighborhood where a high-performing, largely Black elementary school is threatened by the forces of gentrification—a story that reflects larger struggles with the historical impacts of institutional racism and the ways demographic shifts affect education.
A co-production of SCHOOL FILM LLC, AMERICAN DOCUMENTARY | POV, ITVS and BLACK PUBLIC MEDIA (PBS)
"The Rebellious Life of Mrs. Rosa Parks"   
Rosa Parks was more than an "old" lady who was too tired to go to the back of the bus, as this documentary demonstrates, delving deep into the Civil Rights icon's historic role in the Montgomery Bus Boycott beyond her traditionally assigned role in school textbooks.
SO'B Productions (Peacock)
"The Territory"   
This immersive, awe-inspiring documentary looks at the tireless fight of the Amazon's Indigenous Uru-eu-wau-wau people against the encroaching deforestation brought by farmers and illegal settlers.
National Geographic Documentary Films Presents A Documist And Associação Jupaú Film in association with Time Studios, Xtr, Doc Society Climate Story Fund / A Production of Protozoa Pictures, Passion Pictures, Real Lava (Disney+)
"We Need To Talk About Cosby"   
Writer/director W. Kamau Bell weighs the life and legacy of Bill Cosby as a peerless groundbreaker and dominant cultural force against his crimes as a convicted sexual predator through difficult and candid conversations with comedians, journalists, and survivors in a potent examination of problematic artist versus art.
SHOWTIME Documentary Films Presents, A Boardwalk Pictures Production, In Association With WKB Industries (Showtime Networks)
NEWS
"60 MINUTES: The Declining Mental Health of America's Kids"
This 60 Minutes report delves into the mental health crisis striking kids across America and explores its root causes: the isolation and fear of the pandemic and the addiction and toxicity of social media.
CBS News 60 Minutes (CBS)
"ABC News Digital: Buffalo: Healing From Hate"
Through four in-depth video profiles, ABC News Digital tells the personal stories of those killed in the mass shooting at the Tops supermarket in Buffalo, spending time with their families to paint tender and detailed portraits of those lost and making sure their lives and legacies are not forgotten after the onslaught of news coverage.
ABC News Digital (ABC)
"FRONTLINE: Crime Scene Bucha"
FRONTLINE, The Associated Press, and SITU Research teamed up on an exclusive visual investigation into Russian war crimes in the Ukrainian town of Bucha during a month-long occupation, drawing on hundreds of hours of closed-circuit television footage, intercepted phone calls, and a 3-D model of the town to map the deaths of 450 people in the soldiers' "cleansing" operations.
FRONTLINE (PBS) with The Associated Press and SITU Research (PBS)
"FRONTLINE: Michael Flynn's Holy War"
Truly terrifying in its implications, this FRONTLINE episode asks how Michael Flynn went from being an elite soldier overseas to waging a "spiritual war" in America, emerging as a leader in a far-right movement that puts its brand of Christianity at the center of U.S. civic life and institutions, attracting election deniers, conspiracists, and extremists around the country.
FRONTLINE (PBS) with The Associated Press (PBS)
"FRONTLINE: Putin's War at Home"
This report takes a deep, documentary approach to profiling the defiant Russians risking imprisonment as they push back against President Vladimir Putin's crackdown on criticism of his war on Ukraine, with extraordinary footage from inside the country.
FRONTLINE (PBS)
"FRONTLINE: Ukraine: Life Under Russia's Attack"
FRONTLINE provides a dramatic and intimate look inside the Russian assault on Kharkiv, Ukraine's second largest city, following the displaced families trying to survive underground, civilians caught in the war, and first responders risking their lives.
FRONTLINE (PBS)
"The Gap: Failure to Treat, Failure to Protect"
A year-long investigation by local Minneapolis-St. Paul's KARE 11, revealed systemic failures to treat people with mental illness who were declared incompetent in court and resulted in state-wide reforms that were deemed lifesaving by the mental health community and lawmakers.
KARE-TV (NBC/KARE-TV)
"Guns in America"
Faced with repeatedly reporting on the endless cycle of mass shootings across America, PBS NewsHour raised the bar, providing context while also telling empathetic stories across different segments throughout the year dealing with victims, survivors, and their communities in Buffalo, New York, and Uvalde, Texas.
PBS NewsHour (PBS NewsHour)
"Inside An Armed Bank Raid in Lebanon"
In a gripping piece that illuminates complex issues, VICE News reports from inside an armed bank raid for 16 hours in Lebanon as desperate bank customers demand their own savings despite the country's limits on how much people can withdraw from their accounts amidst a crushing economic crisis.
VICE News (VICE TV)
"Myanmar: The Forgotten Revolution"
A team of courageous filmmakers spent more than a year inside the Southeast Asian country of Myanmar, bringing viewers inside a largely ignored and forgotten civil war in which more than 20,000 people have been reported dead and thousands are fighting a military coup that removed their elected government.
Evan Williams Productions (Channel 4)
"No Justice for Women in the Taliban's Afghanistan"
Women's lives drastically changed after the withdrawal of American troops from Afghanistan in August 2021. VICE takes viewers inside a justice system tipped against women facing physical and sexual abuse and the underground shelters where women turn to escape violence at home for a devastating look at the country's inequality.
VICE News (VICE News)
"One Day in Hebron"
American Al Jazeera host Dena Takuri returns to Hebron, the once-vibrant Palestinian city where her father was born and raised to see what Israel's military occupation has done to his hometown: segregated streets, traumatized residents, shuttered businesses, and the remaining Palestinians erecting nets to catch the trash thrown at them by settlers.
AJ+ (Direct From)
"The Price of Care: Taken by the State"
This local news investigation from ABC10-KXTV in Sacramento uncovered how the California Department of Developmental Services gained conservatorship powers over hundreds of adults with disabilities, only to separate them from their families and neglect them in care facilities. The reporting resulted in changes to California's conservatorship laws, adding protections and additional funding to enact them.
KXTV/ABC10 (KXTV/ABC10)
"Shimon Prokupecz: Unraveling Uvalde"
After the deadliest school shooting since Sandy Hook in 2012, the CNN team led by Shimon Prokupecz relentlessly pursued the glaring, unanswered questions about the law enforcement response to the Uvalde, Texas school shooter who killed 19 children and two teachers. A gut-wrenching interview with one surviving teacher underscores the horrific question, "Why didn't anyone help sooner?"
CNN (CNN)
About Peabody Awards
Respected for its integrity and revered for its standards of excellence, the Peabody is an honor like no other for television, podcast/radio, and digital media. Chosen each year by a diverse Board of Jurors through unanimous vote, Peabody Awards are given in the categories of entertainment, documentary, news, podcast/radio, arts, children's and youth, public service, and interactive and immersive. The annual Peabody winners are a collection of  stories that powerfully reflect the pressing social issues and the vibrant emerging voices of our day. From major productions to local journalism, the Peabody Awards shine a light on the Stories That Matter and are a testament to the power of art and reportage in the push for truth, social justice, and equity. The Peabody Awards were founded in 1940 at the Grady College of Journalism and Mass Communication at the University of Georgia and are still based in Athens today.
For more information, visit peabodyawards.com to sign up for our newsletter or follow us on social:
Twitter:       @PeabodyAwards
Instagram:   @PeabodyAwards
Facebook:    Peabody Awards
YouTube: PeabodyAwardChannel
Website: https://peabodyawards.com/ 
Hashtags:     #PeabodyAwards #StoriesThatMatter
About Grady College
Established in 1915, the UGA Grady College of Journalism and Mass Communication offers undergraduate majors in advertising, entertainment and media studies, journalism and public relations. The college also offers several graduate degrees. For more information, see www.grady.uga.edu or follow @UGAGrady on Twitter.
Media Contact:
Julie Cloutier / julie.cloutier@ledecompany.com 
Emma Parker / emma.parker@ledecompany.com