Fred Armisen to Host 74th Annual Peabody Awards May 31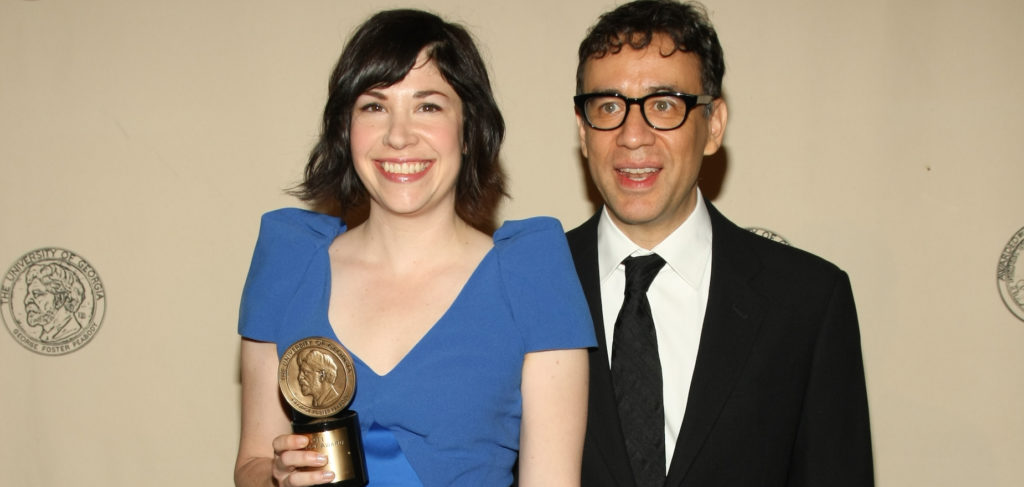 For the first time in its 73-year history, the Peabody Awards – the official presentation of the oldest and most prestigious award for electronic media – will be held as an evening gala event.
The May 31 ceremony in New York will have a spectacular new venue: the Greek revival special-events palace Cipriani Wall Street. For the first time, the ceremony will be a stylish, Sunday night event, complete with red carpet, rather than a workday luncheon.
Actor-producer-writer Fred Armisen, co-creator, co-writer and co-star of the Peabody-winning and Emmy-nominated Portlandia, and an 11-season Saturday Night Live veteran, is set to emcee the dramatically reimagined event. The Peabody Awards and Pivot collaborated to create an exciting event with TV foremost in mind. In June, Pivot will air the 90-minute prime-time special that combines the best of the ceremony, with interviews and clips of winning programs. The ceremony and primetime special are being produced by Den of Thieves.
"We are thrilled to have Fred Armisen lead the Peabodys into a new venue and a new era," said Dr. Jeffrey P. Jones, director of the Peabody Awards program at the University of Georgia. "Armisen is not just a comedian but an inspired citizen whose singular take on life and politics exemplifies the Peabody mission to honor stories that matter."
Armisen and Dr. Jones will welcome 1,000 industry professionals, including the 2014 Peabody winners, to celebrate excellence in electronic media.
For IFC's Portlandia, Armisen (who plays alongside Carrie Brownstein) received an Emmy® nomination for "Outstanding Supporting Actor in a Comedy Series" in 2014 and a nomination for "Outstanding Writing for a Variety Series" in 2012, 2013 and 2014 for his work on the series. In 2014, Armisen, along with the other writers, garnered a Writers Guild Awards nomination for "Outstanding Comedy/Variety Series." The show also received the prestigious Peabody Award for excellence in 2011. The critically acclaimed series began its fifth season this past January.
This past February, Armisen co-hosted IFC's Film Independent Spirit Awards. The previous year, in February 2014, he was named band leader of the 8G Band on Late Night with Seth Meyers. The band, curated by Armisen, includes members of indie rock bands Les Savy Fav and Girls Against Boys.
His most recent venture is his new IFC comedy, Documentary Now!. The show is a curated series of half-hour documentaries and biopics, each about a completely fictitious subject. Produced by Lorne Michaels's Broadway Video Television and directed by SNL's Rhys Thomas, IFC has ordered six half-hour episodes to premiere in 2015. Meyers will executive produce the series along with Armisen and Bill Hader, who will have recurring roles. Armisen will also soon begin production on the film Geezer which is written and directed by Lee Kirk. The film is a punk rock mid-life crisis story with Armisen starring alongside Billie Joe Armstrong, Judy Greer and Selma Blair.
Armisen will soon star in HBO's one-off comedy event 7 Days in Hell. It's described as a mockumentary send-up of professional tennis. Armisen will also star in Jamie Babbit's raucous comedy Fresno alongside Aubrey Plaza, Molly Shannon, Judy Greer and Natasha Lyonne.
An eleven season veteran of Saturday Night Live, Armisen has engaged audiences with memorable impressions and characters including world leaders like President Barack Obama (he was also part of the "SNL" team that won a 2008 Peabody for its satirical election coverage that year) and Iranian President Mahmoud Ahmadinejad in the popular digital short "Iran So Far Away" to "Weekend Update" fixtures like political comedian Nicholas Fehn or half of the songwriting team of Garth and Kat (with Kristen Wiig) to name a few.
Armisen has landed on Rolling Stone'Äòs "Hot List" and has several times on Entertainment Weekly'Äòs "Must List." He has appeared in countless feature films including Easy A, The Rocker, Confessions of a Shopaholic, Eurotrip and The Promotion as well as lending his voice to the feature The Smurfs. He has also appeared in the films Tenacious D in The Pick of Destiny with Jack Black, Baby Mama with Tina Fey and Amy Poehler, The Ex with Zach Braff and Jason Bateman, and in Will Ferrell and Adam McKay's Anchorman: The Legend of Ron Burgundy.
The Peabody Award recipients for the calendar year 2014 will be announced over a two-week period beginning Tuesday, April 14, with the Individual/Institutional winners. Entertainment winners will be announced live on ABC's "Good Morning America" on Thursday, April 16.
"Announcing our entertainment winners on 'ÄòGMA's is an important milestone for the Peabodys," said Dr. Jones. "Our goal is to invigorate and inspire citizens through the transformative power of television and electronic media to tell stories that transform and inspire us in our everyday lives. Reaching the large, diverse 'ÄòGMA's audience helps us accomplish that goal."
Winners in the categories of News and Radio will be announced on April 20, while winners for Documentary, Web/Interactive, Public Service, Education, and Children's programming will be announced on April 23.