Call for Peabody Student Honor Board Applications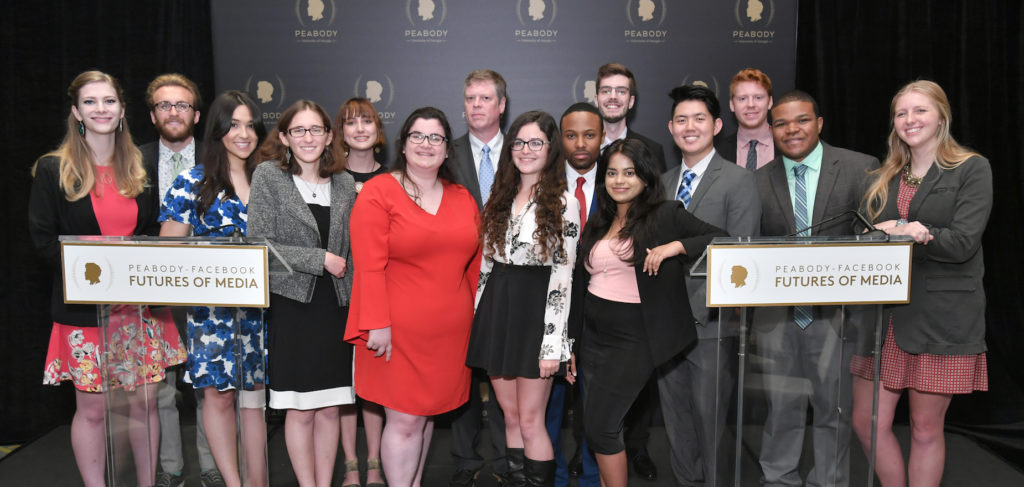 Become a Member of the Peabody Student Honor Board
Here is your chance to join our team in celebrating Stories That Matter! The Board evaluates programs and selects winners for the annual PEABODY FUTURES OF MEDIA AWARD, a distinction that recognizes innovation and excellence in digital programming. Members will serve as Peabody Student Ambassadors and will work at all Peabody-hosted events, including the annual awards ceremony and Futures of Media Luncheon in 2019.
APPLICATION PROCESS
ELIGIBILITY
·

All University of Georgia undergraduate students are eligible to apply. All majors welcome.

·

Students are REQUIRED to take the Entertainment & Media Studies course (EMST 5990, "New Digital Narratives," 3 hours) specially designated for this board in the Spring 2019 semester. Class meeting time TBA. No exceptions.

·

Students MUST be able to travel and be in New York for annual events in mid-May 2019.
Step One:
Select one digital program (web, interactive, or mobile) that you think achieves two things:
Excellence in Storytelling. Peabody's tagline is Stories That Matter. Ask yourself: What kind of issues – public, creative, political, educational, etc. – does it concern? Who is it speaking to? Why is it important for us to reflect on these? To learn more about past Peabody winners: Peabodyawards.com/awards.
Innovation in the digital space. Remember, innovation means doing something new and creative. Stand out with your choice! Avoid platforms/programs like Snapchat or an app that contains the same content as a brand's website or print version. Is this a new story or is it being told in a new form of media that enhances how the story is experienced?
For info on last year's winners: Peabodyawards.com/stories/story/2017-futures-of-media-awards.
Step Two:
Write a 2-page argument in support of your selection. Feel free to include visuals, graphics, and links. On this document, please include: (1) Your name, year in school, major/college (or intended direction), and (2) the program/platform title and a link to where it can be found.
Step Three:
Submit your entry by email at peabody@uga.edu with the subject line: Peabody Student Honor Board.
Selection Process:
We will evaluate all entries and invite up to 16 students to participate in the next round of the selection process. Finalists will be asked to make a 7-min. in-person presentation in support of their selected programs. Up to 8 students will be selected to join the board. Contact us at peabody@uga.edu or 1 (706) 542-3787 with any questions.
Deadline for submission is Friday, October 5, 2018 at 5:00pm ET.
Interview requests will be sent the week of October 15, 2018.