6 Great Thanksgiving Episodes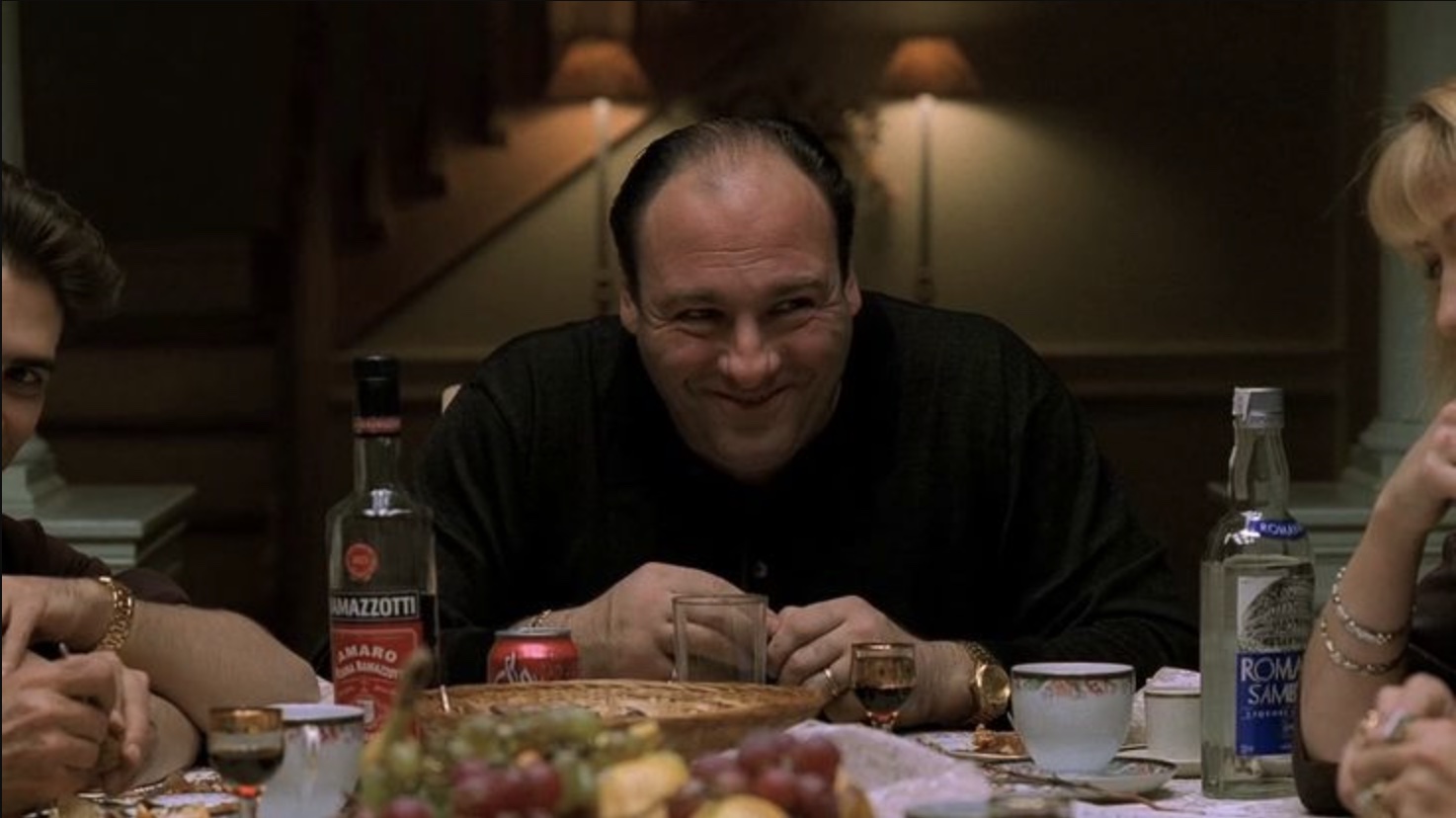 6 Great Thanksgiving Episodes
Thanksgiving makes for inherently good television. You've got a high-stakes, complicated meal that can go wrong in dozens of entertaining ways. You've got a reason to gather all of your characters together and trap them in a room for hours. You've got a major holiday that can dredge up all kinds of psychological baggage.
But some TV shows know how to do Thanksgiving better than others. WKRP in Cincinnati's most famous episode, 1978's "Turkeys Away," had the radio station celebrating by giving away turkeys—by dropping the live birds out of a helicopter, giving us the indelible line, "As God is my witness, I thought turkeys could fly." Cheers gave us a classic 1986 episode ("Thanksgiving Orphans") in which the characters' holiday gathering devolves into a massive food fight. And Friends was legendary for its annual turkey feasts, memorable for such moments as Monica with a raw turkey on her head, Rachel's disgustingly sweet and savory trifle, and Chandler locked in a big wooden box. (Vulture has a handy ranked list of every Friends-giving.)
Aside from those well-known Thanksgiving touchstones, here are some other excellent episodes from Peabody-winning and nominated series to help you celebrate with family, friends, and your favorite streaming services.
A Moment From 'WKRP in Cincinnati'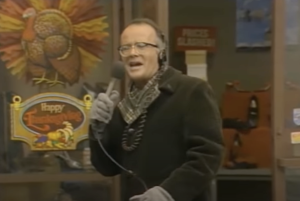 Mad Men: 'The Wheel' (season 1, episode 13)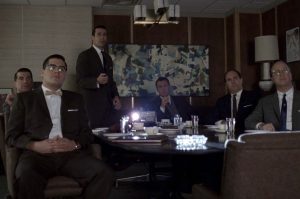 Ad man Don Draper (Jon Hamm) fights with his wife, Betty (January Jones), when he tells her he doesn't want to go to Thanksgiving dinner at her parents' house with their two children, saying the drive isn't worth the trouble. Don stays home to work instead, claiming he must now that he's a partner in the firm. In a theme-crystallizing moment for the entire series, Don puts together a riveting, emotional pitch for Kodak's new, wheel-shaped slide projector, using his own images of happy family moments while telling the clients, "This is not a spaceship, it's a time machine. It goes backwards and forwards, and it takes us to a place where we ache to go again." On Mad Men, the performance of an ideal—that happy family—is more important than the ideal itself, and it's always for sale.
Where to Watch: Amazon Prime
Master of None: 'Thanksgiving' (season 2, episode 8)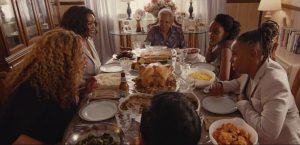 This installment of Aziz Ansari's impressionistic dramedy became one of the series' best-known, launching co-writer and co-star Lena Waithe (writing and starring with Ansari) as a creative force. In it, Ansari's character, Dev, celebrates Thanksgiving through the years with Waithe's Denise and her family. (Dev's immigrant family does not celebrate.) The progression of years allows us to see Denise come out to her family as gay, and their journey from resistance to acceptance. Waithe partially based the script on her own life, showing Denise from age 12 to adulthood, revealing her truth first to Dev, then to her mother (Angela Bassett) and sister (Kym Whitley), and, finally, bringing girlfriends to the holiday dinner. It made Waithe the first Black woman to win an Emmy and won a GLAAD media award; Waithe would go on to create shows such as The Chi, Boomerang, and Twenties, and to write and produce the film Queen & Slim.
Where to Watch: Netflix
Modern Family: 'Winner Winner Turkey Dinner' (season 9, episode 7)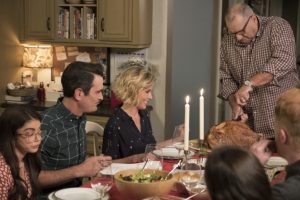 On another show built to deliver strong Thanksgiving episodes—it's a family comedy, after all—this one comes with the perfect sitcom premise: Patriarch Jay (Ed O'Neill) is poised to give a toast to recent family members' successes, but, as we learn, all of them are built on exactly the kinds of fibs many of us tend to tell our families. For instance, Claire (Julie Bowen) won a Turkey Trot, but only by accidentally taking a shortcut; Mitch (Jesse Tyler Ferguson) pretended to have fought off a burglar when, in fact, he injured himself with his own nunchucks. The series' strong cast is at its best here in a simple, silly setup.
Where to Watch: Hulu
The Sopranos: 'He Is Risen' (season 3, episode 8)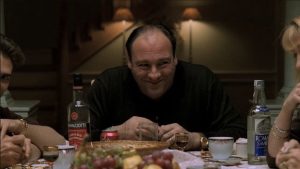 A lot of standard Sopranos drama happens in this episode, from the growing tension between Tony (James Gandolfini) and Ralphie (Joe Pantoliano) to the onset of Tony's affair with Mercedes saleswoman Gloria (Annabella Sciorra), whom he meets in their shared therapist's waiting room. But the family Thanksgiving dinner itself plays almost like a sitcom, thanks in large part to Tony's sister Janice (Aida Turturro) bringing along her new boyfriend, a narcoleptic Christian who keeps falling asleep throughout the festivities. There's also plenty of scatological humor when a capo dies on the toilet after muttering, "F—ing turkey, it's like spackle in my bowels."
Where to Watch: Max
This Is Us: 'Pilgrim Rick' (season 1, episode 8)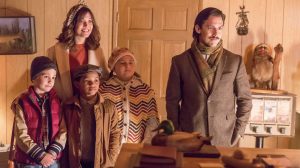 NBC's weepy family drama is in its first-season prime here. In the flashback segments, we see a Thanksgiving when the three kids are young and things don't go at all as planned: After their car breaks down, the Pearsons must spend the holiday in a cheap motel roasting cheese dogs on a furnace, watching Police Academy 3, and inventing a character named Pilgrim Rick, which is the kind of thing we all know makes the best memories. The present-day storyline reveals a major secret that changes Randall's understanding of his entire life thus far, and particularly his relationship with his adopted mother and his birth father. This means you're in for some incendiary Sterling K. Brown acting, one of the best reasons to tune into any episode of This Is Us.
Where to Watch: Hulu
The West Wing: 'The Indians in the Lobby' (season 3, episode 8)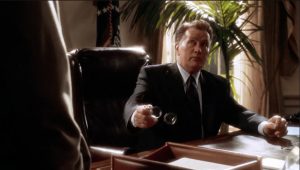 The West Wing had a particular way with Thanksgiving episodes, given its unique ability to balance major national and international crises with moments of humanity and humor. In this episode, Press Secretary C.J. Cregg (Allison Janney) negotiates with two Stockbridge-Munsee Indian activists determined to leverage the emotional resonance of Thanksgiving to get an answer to a 15-year-old request, while President Bartlett (Martin Sheen) has a memorable interaction with the Butterball turkey hotline. Runner up: "Shibboleth," the second season's Thanksgiving outing, in which C.J. deals with the White House turkey festivities while a group of Chinese stowaways are discovered in a container ship in California.
Where to Watch: Max
If you've enjoyed this, please subscribe to the Peabody Finds newsletter here!
Next time on Peabody Finds: The Power of Interactive Journalism