Sam Pollard Receives Peabody Career Achievement Award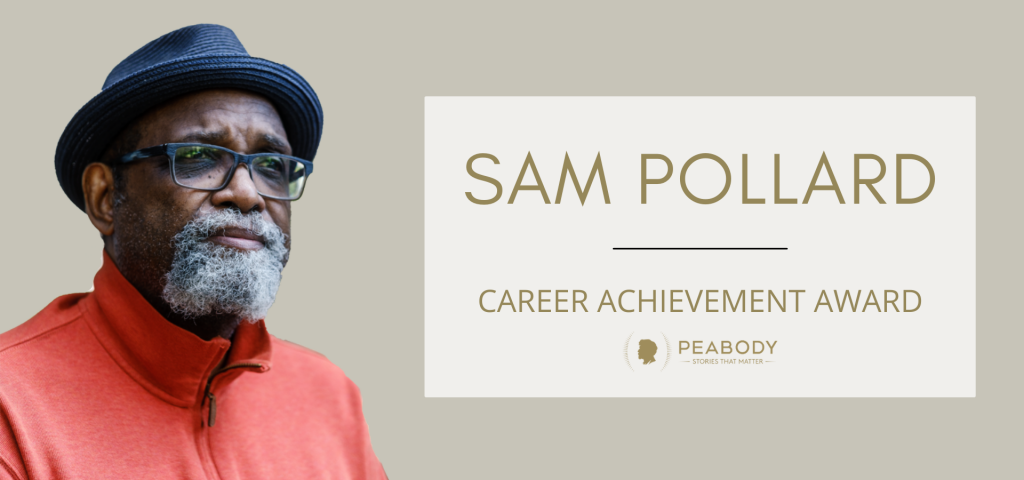 ATHENS, GA (June 10, 2021) – Peabody today announced that Sam Pollard, documentary producer/director and feature film and television editor, has won the Peabody Career Achievement Award. The honor is reserved for individuals whose work and commitment to broadcasting and digital media have left an indelible mark on the field and in American culture. Raoul Peck presented Pollard with the honor this morning via video (linked HERE). Pollard has spent over thirty years chronicling the Black experience and illuminating complicated historical figures across film and television.
"Over the course of his storied career, the multi-hyphenate editor-producer-director-writer has demonstrated a masterful command of so many facets of filmmaking," said Jeffrey Jones, executive director of Peabody. "Whether evaluating prominent Black historical figures or documenting the persistent state of racial inequality in America, Pollard has approached each project not only as an expert filmmaker, but also as a conscientious journalist and virtuosic historian."
Between 1990 and 2010, Pollard edited a number of Spike Lee's most beloved films: Mo' Better Blues, Jungle Fever, Girl 6, Clockers, and Bamboozled. Pollard and Lee also co-produced a number of documentary productions, including Four Little Girls, their Academy Award-nominated film about the 1963 Birmingham church bombings, and When The Levees Broke: A Requiem in Four Acts, the HBO film about the devastation of Hurricane Katrina that won numerous awards, including a Peabody Award and three Emmy Awards.
Pollard's work as director and producer includes the landmark series Eyes on the Prize II on the history of the Civil Rights movement (1990); Slavery By Another Name, a PBS documentary that was in competition at the Sundance Festival (2012); August Wilson: The Ground On Which I Stand for American Masters (2015), and Two Trains Runnin' (2016). Pollard's directorial work includes Sammy Davis Jr., I've Gotta Be Me (2017); Mr. Soul! (co-directed in 2018); the six-part Discovery Channel series "Why We Hate" (co-directed in 2019); and most recently, the critically-acclaimed MLK/FBI (2020); Black Art: In the Absence of Light (2021); and the HBO series Atlanta's Missing and Murdered: The Lost Children (2020), which was nominated for a Peabody Award this year. He is Professor at the NYU Tisch School of the Arts.
The Peabody Board of Jurors noted, "Sam Pollard's remarkable work critically conveys the historical reach of anti-Blackness, racial injustice, and the enduring power of black freedom struggles. With tremendous insight and sensitivity he mines the rich archives of African American life and culture portraying indomitable stories of struggle and determination. In the process he elevates the ordinary, stresses the pleasures, care, and compassion of Black people and ultimately serves as our guide to the power of Black freedom dreams."
The 30 winners of the 81st annual Peabody Awards will be named during a multi-day virtual celebration from June 21st through June 24th. Celebrity presenters will announce each winner via a short video which will include remarks from the winners. Videos will be shared June 21-24, between 9:00am PT-10:30am PT each day on the following platforms:
Twitter: @PeabodyAwards
Instagram: @PeabodyAwards
Facebook: Peabody Awards
Website: https://peabodyawards.com/
Hashtags: #PeabodyAwards #StoriesThatMatter
About Peabody Awards
Respected for its integrity and revered for its standards of excellence, the Peabody is an honor like no other for television, podcast/radio, and digital media. Chosen each year by a diverse Board of Jurors through unanimous vote, Peabody Awards are given in the categories of entertainment, documentary, news, podcast/radio, arts, children's and youth, public service, and multimedia programming. The annual Peabody winners are a collection of 30 stories that powerfully reflect the pressing social issues and the vibrant emerging voices of our day. From major productions to local journalism, the Peabody Awards shine a light on the Stories That Matter and are a testament to the power of art and reportage in the push for truth, social justice, and equity. The Peabody Awards were founded in 1940 at the Grady College of Journalism and Mass Communication at the University of Georgia and are still based in Athens today. For more information, visit peabodyawards.com to sign up for our newsletter or follow us on social:
Media Contact:
Emma Parker / emma.parker@ledecompany.com
Anna Bailer / anna.bailer@ledecompany.com