Peabody Hosts WGFestival Panel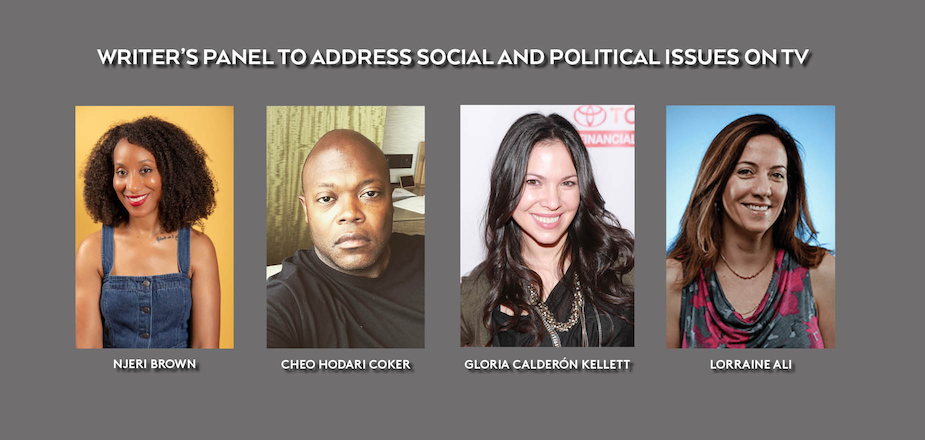 Peabody is partnering with The Writer's Guild Foundation for its first-ever Writer's Panel during the WGFestival in Los Angeles March 30-31. "Writing for Change: Addressing Social and Political Issues on TV" will focus on the process of how television is covering contemporary social and political issues today. The panel will take place from 3-5 p.m. on Saturday, March 30, in the Linwood Dunn Theatre. Peabody is based in the University of Georgia's Grady College of Journalism and Mass Communication.
"Each year, Peabody Awards celebrate not only the best storytelling but issues that resonate both culturally and politically," said Executive Director Jeffrey Jones, who will introduce the panel. "Such issues warrant further exploration and we're delighted to have these accomplished writers discuss their role in creating entertainment that is both lively and socially relevant."
Guest panelists Njeri Brown, Gloria Calderón Kellett and Cheo Hodari Coker have written for groundbreaking shows like "black-ish,""One Day at a Time" and Marvel's "Luke Cage," all of which have been recognized by the Peabody Awards. The discussion will focus on tackling issues such as race, the immigrant experience, gender equality and police brutality through entertainment programming. Panelists will also confer on how storytelling can serve as a catalyst for social change. Lorraine Ali, TV critic for The Los Angeles Times and a member of the Peabody Board of Jurors, will serve as moderator.
"We're thrilled to welcome Peabody and this stellar panel of writers to this year's WGFestival," said Writers Guild Foundation Executive Director Katie Buckland. "The weekend celebrates the nuances of storytelling, and this discussion on how social and political issues are explored through stories will be a relevant topic for all writers working on their craft."
The panelists are industry professionals with extensive experience in writing for television and film:
Njeri Brown is a co-producer of "Dead To Me" on Netflix. She previously was an executive story editor on the critically acclaimed Netflix series "Dear White People," created by Justin Simien and executive produced by Yvette Lee Bowser. Prior to that, Brown was a writer on the hit ABC comedy "black-ish" for two seasons. Before entering the world of television writing she was a corporate attorney.
Cheo Hodari Coker is the Seattle-based creator and former showrunner and executive producer of Marvel's "Luke Cage." Coker started his career in journalism as a staff writer for the Los Angeles Times Pop Music section. He also contributed to Rolling Stone, Premiere, Vibe, The Source, XXL, Essence and numerous national publications, and has been featured on VH-1's "Behind The Music" and Netflix's "Hip-Hop Evolution."
Gloria Calderón Kellett is the executive producer, co-showrunner, director and actor on the critically acclaimed Netflix reimagining of the classic sitcom "One Day at a Time." She wrote and executive produced the comedy pilot "History of Them" at CBS. She was a writer/producer on "iZombie" (CW), "Devious Maids" (Lifetime), "Mixology" (ABC), "Rules of Engagement" and "How I Met Your Mother" (both CBS).
Lorraine Ali (moderator) is an award-winning journalist who covers media, culture and American Muslim issues for the LA Times. She previously was a culture writer and music critic with Newsweek and a senior critic with Rolling Stone.
The panel is co-sponsored by the Peabody Media Center, the scholarly and programming arm of the Peabody Awards, and The Writers Guild Foundation, which is dedicated to promoting and preserving the craft, history and voices of screen storytelling.
WGFestival 2019 is a public event open to anyone interested in writing for the screen. All proceeds benefit The Writers Guild Foundation's Library, Archives and community outreach programs. For more info, visit wgfestival.org.
EDITORS: Complete bios and headshots for panelists and moderator are available here.
About Peabody Media Center:
The Peabody Media Center is a scholarly research center and media production arm of the prestigious Peabody Awards. The Media Center creates public programming that spotlights the yearly award winners and finalists, as well as critical scholarly engagement that addresses today's changing media industry landscape. Resources unique to the center include the Peabody Archive, part of the third largest collection of audiovisual materials in the United States, and the Peabody Academy, which focuses on inspiring storytellers of the future.
About WGFestival:
WGFestival is a two-day writing conference presented by The Writers Guild Foundation, in partnership with the Motion Picture Academy Education and Nicholl Fellowship Programs. Through keynote panels, workshops and special events, its goal is to create an interactive and educational experience for emerging and working writers in film and television. Now in its fourth year, WGFestival's unique focus on the craft and business of writing draws the industry's top talents and a highly engaged, sophisticated audience.
About The Writers Guild Foundation:
Founded in 1966, The Writers Guild Foundation is dedicated to promoting and preserving the craft, history and voices of screen storytelling. As a 501c3 non-profit, we're proud of all we do for the community, including our Events programming, the Veterans Writing Project, our Volunteer & Mentorship Programs, and the Shavelson-Webb Library—LA's premiere library devoted entirely to writing for the screen. For more information, visit wgfoundation.org.