Five Members Join Board of Jurors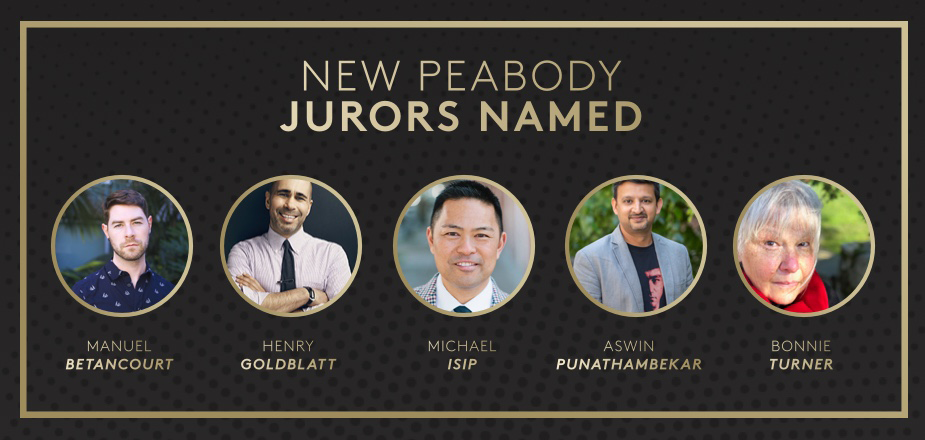 Peabody has appointed Manuel Betancourt, Henry Goldblatt, Michael Isip, Aswin Punathambekar and Bonnie Turner to its board of jurors, which each year bestows the Peabody Awards for excellence in television, radio/podcasting, and digital media. The program is based at the Grady College of Journalism and Mass Communication at the University of Georgia.
"We are delighted and honored to have such outstanding scholars, critics, media executives, and content creators join us in the selection of our annual awards. What makes the Peabody Awards special is precisely this mix of diverse voices—all experts in media—that determine what constitutes the most outstanding media programming each year," said Jeffrey Jones, executive director of the Peabody Awards.
Manuel Betancourt is a Colombian-born film and television writer. He is a contributing editor at Film Quarterly, where he publishes his column, "Cineando," all about Latin American cinema, and a regular contributor to Electric Literature, where he focuses on book-to-film adaptations. His work has been featured in The New York Times, BuzzFeed Reader, Vulture, The Los Angeles Times, Film Comment, Esquire, The Atlantic, Los Angeles Review of Books and Vice, among others. Betancourt is the former Film & TV editor at Remezcla. He is the author of "Judy at Carnegie Hall," as well as one of the contributing writers of Chad Sell's critically acclaimed graphic novel "The Cardboard Kingdom" and its sequel. Betancourt is a member of the Los Angeles Film Critics Association; GALECA, The Society of LGBTQ Entertainment Critics; as well as a founding member of LEJA, Latino Entertainment Journalists Association. In 2019 he was selected to be the Writer in Residence at the Sundance Institute's Documentary and Story Edit Lab. Betancourt holds a doctorate degree in English Literatures from Rutgers University.
Henry Goldblatt is the former Editor in Chief of Entertainment Weekly where he created some of EW's most beloved multi-platform franchises including "Hollywood's Greatest Untold Stories", "EW Cast Reunions" and the award-winning annual LGBTQ issue. In his previous roles at Entertainment Weekly, he invented and wrote "The Bullseye"—a humorous compilation of the week's hits and misses—which became the brand's most popular franchise. In addition, he launched and ran EW Radio on SiriusXM, a 24/7 pop culture news station. Prior to EW, Goldblatt spent seven years at Fortune magazine as a senior editor, a writer covering the media and telecommunications beats, and as a reporter for the brand's signature Fortune 500 list. Goldblatt is a graduate of the University of Michigan and has a master's degree in journalism from Northwestern University.
Michael Isip is President & CEO of KQED, the San Francisco Bay Area's PBS and NPR media resource. Isip has a quarter century of media experience and has played a critical role in KQED's growth and transformation into a multimedia organization. He joined KQED in 2001 as a Television Executive Producer and has served in a number of senior roles, including Senior VP & Chief Content Officer and Executive VP & Chief Operating Officer. Prior to KQED, Isip led production at KVIE Public Television, Sacramento. He started his career at WLS-TV, Chicago. Isip is a senior fellow for the American Leadership Forum – Silicon Valley and serves on the boards of Public Radio Exchange, American Documentary Inc., Joint Venture Silicon Valley, and the Silicon Valley Leadership Group. Isip has a B.A. from Cornell University and a J.D. from DePaul College of Law.
Aswin Punathambekar is an associate professor of media studies at the University of Virginia. With interests ranging across radio, film, television, and digital media, his research and teaching focus on the impact that globalization and technological change have on the workings of media industries, formations of audiences and publics, and cultural identity and politics. Based on research in India, the U.K., and the U.S. he has written and co-edited several books including "From Bombay to Bollywood: The Making of a Global Media Industry," "Media Industry Studies," and "Television at Large in South Asia." He serves as an editor of an international peer-reviewed journal Media, Culture and Society, and co-edits the Critical Cultural Communication book series for NYU Press. Punathambekar holds a doctorate from the University of Wisconsin-Madison and master's degrees from the Massachusetts Institute of Technology and the University of Georgia.
Bonnie Turner is a veteran film and television writer and producer with more than forty years of experience. She began in Atlanta producing for Ted Turner and was present at the launch of CNN. In the mid-eighties she wrote and produced for "Saturday Night Live." During her tenure, her work introduced many comical words and phrases into the pop zeitgeist. Turner wrote five successful films for Paramount Pictures including the feature-length version of "Wayne's World," which set a comedy box office record. She then wrote and produced for the Carsey-Werner company where she created "3rd Rock From The Sun" and "That 'Äò70s Show."
Martha Nelson, former editor-in-chief of Yahoo! and Time Inc., serves as board chair. For the full list of the current board of jurors, click here.
The Peabody Board of Jurors is made up of media industry professionals, media scholars, critics and journalists, appointed by the program's executive director to a renewable three-year term of service. Each year, this mix of top-level thought leaders names 60 nominees from which they then select The Peabody 30—the best programs that achieve the highest standards in media and storytelling across genre and platforms.