New Board of Directors Members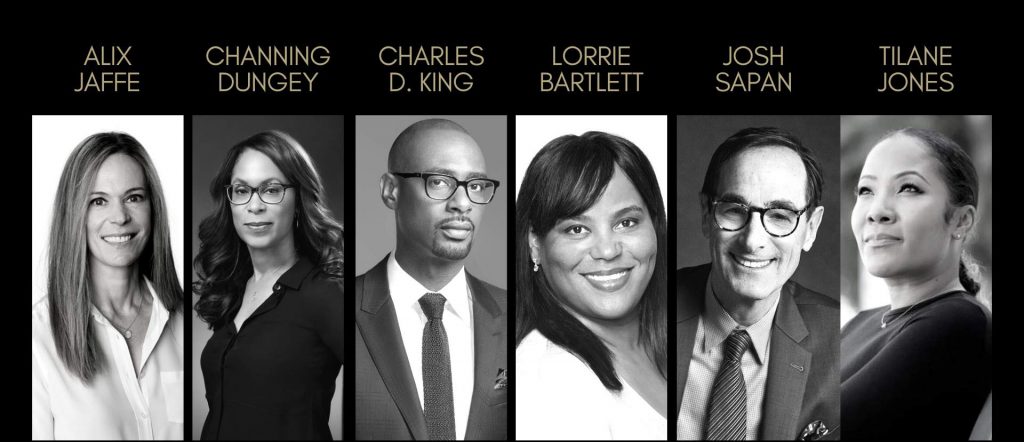 Peabody Appoints Six New Members to West Coast Board of Directors: Lorrie Bartlett, Channing Dungey, Alix Jaffe, Tilane Jones, Charles D. King, and Josh Sapan
Prominent executives from leading media companies and networks join Peabody's diverse board of directors
ATHENS, GA (MAY 26, 2021) – Peabody announced today the appointment of six new members to its West Coast board of directors: Lorrie Bartlett, Channing Dungey, Alix Jaffe, Tilane Jones, Charles D. King, and Josh Sapan. These individuals are prominent executives from leading media companies and networks. The board provides expert counsel and stewardship, and advances Peabody's commitment to outstanding and transformative storytelling.
Launched in 2015, the board of directors are separate from the traditional board of jurors that bestow the prestigious Peabody Awards for the most compelling and empowering stories released in broadcasting and streaming media. Peabody is based at the Grady College of Journalism and Mass Communication at the University of Georgia. Comprised of an East Coast and West Coast arm, the composition of the boards reflect the diversity of Peabody's constituencies.
"We're extremely proud of the media leaders we've assembled to advise us and help us chart our future," said Jeffrey Jones, executive director of Peabody. "They each have decades of experience leading some of the most influential media companies and they are all deeply passionate about championing and celebrating powerful stories that matter. We're thrilled to welcome them to the West Coast Board."
The new members of the West Coast board (in alphabetical order) are:
Lorrie Bartlett, Co-Head of Talent, ICM, leads the talent department at talent and literary agency ICM Partners. She was the first African American to become a department head and a board member of a major talent agency.
Channing Dungey, Chairman, Warner Bros. Television Group, has creative responsibility for all of Warner Bros.' television production activities, including production of scripted and unscripted/alternative series for on-demand/streaming platforms, premium/pay and basic cable channels, and the broadcast networks.
Alix Jaffe, Executive Vice President of Television, Village Roadshow Entertainment Group, oversees the company's independent television business focused on scripted content.
Tilane Jones, President of ARRAY, the multi-platform arts and social impact collective dedicated to narrative change founded by filmmaker Ava DuVernay in 2011. Jones leads ARRAY Alliance, the non-profit group, as well as programming and production hub ARRAY Creative Campus. She continues to oversee ARRAY Releasing, the company's film distribution arm, where she is responsible for the acquisition, booking and marketing of more than 30 independent feature films.
Charles D. King, Founder & CEO of MACRO, a multi-platform media company representing the voice and perspectives of Black people and people of color. King casts the overall vision, mission and strategic goals for the company and its multiple business verticals that include a film (MACRO) and television studio (MACRO Television Studios) that finances, develops and produces theatrical features and premium television, talent (M88) and influencer (UNCMMN) management divisions, a branding and creative agency (Brand MACRO) and an affiliated venture firm (MaC Venture Capital).
Josh Sapan, President and CEO of AMC Networks, leads the global entertainment company known for creating some of the most celebrated and groundbreaking original content in television history.
They will join the following Peabody members of the board of directors (in alphabetical order following chair):
WEST COAST
Bruce M. Ramer (Chair), Partner, Gang, Tyre, Ramer & Brown
Casey Bloys, Chief Content Officer, HBO and HBO Max
Emerson Coleman, Senior Vice President, Programming, Hearst Television
Susanne Daniels, Global Head of Original Content, YouTube
Craig Erwich, President, ABC Entertainment and Hulu Originals, Hulu
Cliff Gilbert-Lurie, Senior Partner, Ziffren Brittenham LLP
Roma Khanna, Executive Chair, HiddenLight Productions
David Kramer, Co-President, United Talent Agency
Steve Lafferty, Head of Television and Managing Partner, Creative Artists Agency
David Nevins, Chief Creative Officer, CBS and Chairman and CEO, Showtime Networks, ViacomCBS
Andy Patman, Partner and Head of Television Content, A3 Artists Agency
Rick Rosen, Head of Television, William Morris Endeavor Entertainment
Jennifer Salke, Head of Amazon Studios
Ted Sarandos, Co-Chief Executive Officer and Chief Content Officer, Netflix
David Stapf, President, CBS Studios
Zack Van Amburg, Head of Worldwide Video, Apple
EAST COAST
John Huey (Chair), Former Editor-in-Chief, Time Inc.
Philip Balboni, Founder, CEO and Co-Executive Editor, Daily Chatter
Nancy Barnes, Senior Vice President of News and Editorial Director, NPR
Caty Borum Chattoo, Director, Center for Media & Social Impact, American University
Katie Couric, Journalist and Author; Founder, Katie Couric Media
Maria Cuomo Cole, Producer/Founder, Cuomo Cole Productions
Nancy Dubuc, CEO, Vice Media
Jessica Herrera-Flanigan, Vice President, Policy & Philanthropy, Americas, Twitter
Kerri Hoffman, CEO, PRX
Dave Isay, Founder and President, StoryCorps
Paula Kerger, President and CEO, PBS
Chris McCarthy, President, Entertainment & Youth Brands, ViacomCBS Domestic Media Networks, Viacom
Pat Mitchell, CEO and Producer; Founder, TEDWomen & Chair, Sundance Institute board
Courteney Monroe, President of Content, National Geographic Global Networks
Sheila Nevins, Head, MTV Documentary Films, MTV Studios
Michele Norris-Johnson, Founding Director, The Race Card Project & Former NPR Host
Soledad O'Brien, Chief Executive Officer, Soledad O'Brien Productions
Malika Saada Saar, Global Head of Human Rights, YouTube
Connor Schell, Producer
Regina K. Scully, Founder and CEO, Artemis Rising Foundation
Kashif Shaikh, Co-Founder and Executive Director, Pillars Fund
Neil Shapiro, President and CEO, WNET New York Public Media
Marcia Smith, Co-Founder and President, Firelight Media
EDITORS: Bios and headshots for new board members are located here: https://www.dropbox.com/sh/tnmc1h4zvmismk8/AAD07Q394iBdYamU4_MMDPEma?dl=0
About Peabody Awards
Respected for its integrity and revered for its standards of excellence, the Peabody is an honor like no other for television, podcast/radio, and digital media. Chosen each year by a diverse Board of Jurors through unanimous vote, Peabody Awards are given in the categories of entertainment, documentary, news, podcast/radio, arts, children's and youth, public service, and multimedia programming. The annual Peabody winners are a collection of 30 stories that powerfully reflect the pressing social issues and the vibrant emerging voices of our day. From major productions to local journalism, the Peabody Awards shine a light on the Stories That Matter and are a testament to the power of art and reportage in the push for truth, social justice, and equity. The Peabody Awards were founded in 1940 at the Grady College of Journalism and Mass Communication at the University of Georgia and are still based in Athens today. For more information, visit peabodyawards.com to sign up for our newsletter or follow us on social:
Twitter: @PeabodyAwards
Instagram: @PeabodyAwards
Facebook: Peabody Awards
Hashtags: #PeabodyAwards #StoriesThatMatter
Media Contact:
Julie Cloutier / julie.cloutier@ledecompany.com
Anna Bailer / anna.bailer@ledecompany.com