PBS and FUSION Named Broadcast Partners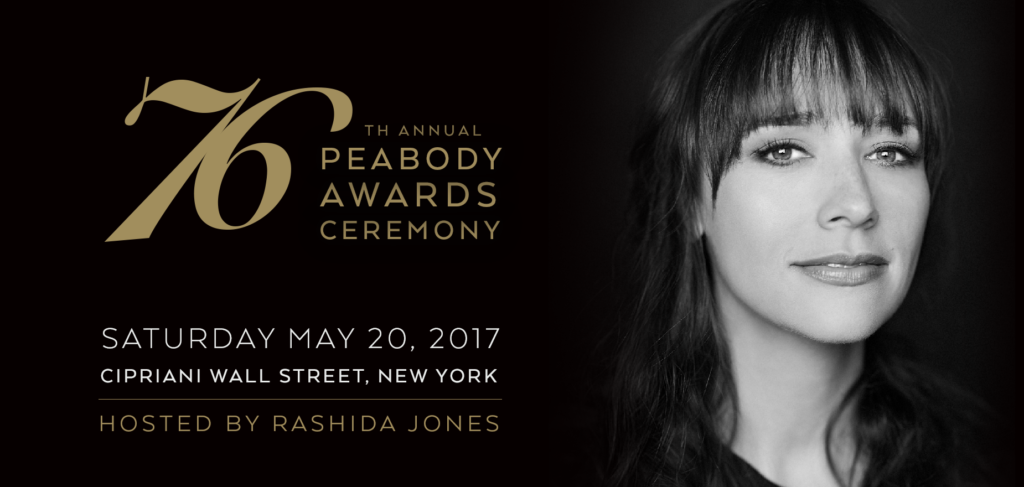 The Peabody Awards has partnered with PBS and FUSION on a special television broadcast of the 76th Annual Peabody Awards Ceremony. The red-carpet event will be held and taped the evening of Saturday, May 20, at Cipriani Wall Street in New York. A joint broadcast of the program is scheduled for Friday, June 2 at 9 p.m./ET. The collaboration marks the first time the awards ceremony—a celebration of one of media's most coveted honors—will be telecast on both national broadcast and cable television. Rashida Jones, a cast member of Peabody Award-winning "Parks and Recreation," will serve as the evening's host. The Peabody Awards are based at the Grady College of Journalism and Mass Communication at the University of Georgia.

"We are proud to join forces with PBS and FUSION in honoring the year's best stories in television, radio, podcasts and digital narratives," Peabody Awards Director Jeffrey P. Jones said. "Today more than ever, Peabody's mission to highlight the most compelling and empowering stories and their impact on society is vital to public discourse. Broadcasting our awards ceremony to the loyal viewers of PBS and on FUSION's burgeoning network is a wonderful way to showcase Stories That Matter."
"The Peabody Awards have a long history of recognizing excellence in media," said Beth Hoppe, chief programming executive and general manager of General Audience Programming, PBS. "Acknowledging stories that matter is a core value of PBS, and we are thrilled to partner with them to bring the Peabody Awards honoring the best-of-the-best in media to PBS viewers around the country."

"We are excited to be partnering with PBS and Peabody to celebrate some of the most powerful storytelling of the past year—especially those that elevate underrepresented voices and shine a light on untold stories of significance to the young, diverse communities we serve," said Daniel Eilemberg, president of FUSION.
Rashida Jones is an actor, director, producer, screenwriter, musician and activist. She currently stars in the hit TBS series "Angie Tribeca" where she plays the title role, in addition to working behind the camera as executive producer and a director of some episodes. A multi-hyphenate in the entertainment space, this past year Jones was nominated for an NAACP Image Award for co-writing the first episode of Netflix's third season of "Black Mirror." She also developed "Claws" on TNT, a nail-salon turned money-laundering-front dramedy, set to premiere this summer. This April, she will be releasing a docu-series on Netflix, "Hot Girls Wanted: Turned On," a continued exploration of themes discovered in her Emmy-nominated documentary in 2015, "Hot Girls Wanted." The series will focus on society's relationship with sex and technology. Fans grew to love Jones from her beloved roles on "The Office" and "Parks and Recreation" and through the romantic film that she wrote and starred in, "Celeste and Jesse Forever."
For the second consecutive year, 60 finalists from news, documentaries, entertainment, children's programming, educational programming and public service will be selected and announced April 5. From these finalists, 30 winners will ultimately be chosen and revealed in a series of news announcements beginning April 12.
The gala evening will be a televised special, "The 76th Annual Peabody Awards," airing nationally on PBS stations and FUSION platforms on Friday, June 2 (9 p.m. ET/PT). FUSION will be producing a half-hour special live from the red carpet starting at 8:30 p.m. Den of Thieves will again produce the telecast.
Supporting sponsors of the 76th Annual Peabody Awards Ceremony include Emerson Collective and The Coca-Cola Co.