New Peabody Finalist and Winners Format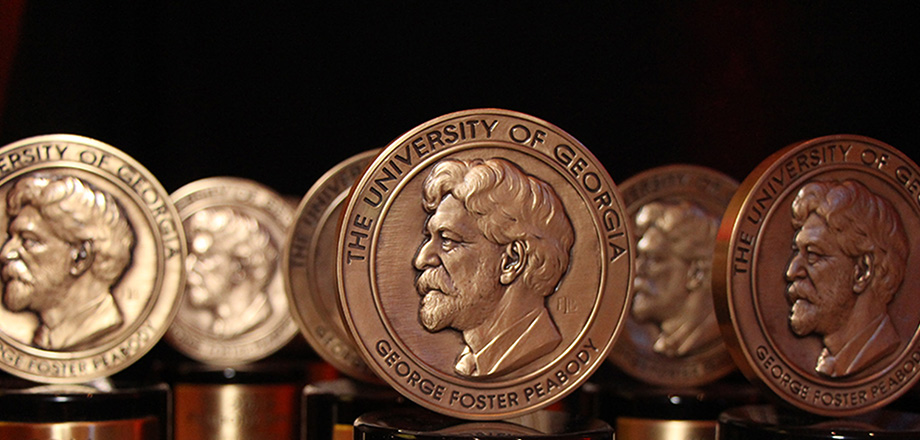 The Peabody Awards, based at the University of Georgia, will select finalists for the first time in its history, to be announced April 12. From the 60 Peabody Finalists, a group of winners—The Peabody 30—will ultimately be chosen. The Peabody 30 will be revealed in a succession of announcements by category, beginning April 19.
"There are now more than 400 scripted prime-time television shows, new locations for documentary television, a flood of podcasts, and a wealth of quality digital storytelling," Peabody Awards Director Jeffrey P. Jones said. "Peabody has to reflect that change in order to continue to award the best of the best, while also recognizing and highlighting this expanded field of quality media production."
Peabody Awards came first
Before there were Emmys, before there were DuPont-Columbia's, Golden Globes, Silver Gavels, People's Choice or any other award for electronic media programming, there was Peabody.
Peabody was the first, it remains the most prestigious, and this spring the University of Georgia's coveted prize marks its 75th year—three-quarters of a century of celebrating stories that matter in a media universe that has expanded dramatically since those early radio days.
Just last year, Peabody winners ranged from the deconstructionist spy drama "The Americans" to the true-crime podcast "Serial," from a sobering expose of China's illegal human organ trade to the animated kids show "Doc McStuffins." Only Peabody considers the full range of electronic media genres on all platforms: entertainment, news, documentaries, children's programming, educational programming, and public service.
Peabody was born of radio's pursuit of respect. Leaders of the National Association of Broadcasters in 1938 authorized Lambdin Kay, general manager of Atlanta's WSB-AM, to develop a prize they hoped would have the cache that the Pulitzer had in the print world. Kay's vision was realized at the University of Georgia in 1940.
In its early years, the boards of jurors overwhelmingly honored news and information programming and public service campaigns. Awards to entertainment fare, even of the highbrow variety such as live drama, were fairly rare. That changed in the 1970s when "popular culture" underwent scholarly and critical reassessments. TV series such as "M*A*S*H" and "All in the Family" suggested new possibilities for social commentary and real-world relevance in established entertainment formats.
By the turn of the 21st century, it was common practice for Peabody boards to honor a gritty crime series such as "The Wire" or a cheeky satire such as "South Park," along with war reporting from deep inside Syria and an innovative production of "Macbeth."
Today's Peabody Awards
In 2014, a first ever Peabody Advisory Board was recruited. Comprised of 25 top executives in news and entertainment, the Advisory Board is charged with boosting awareness of the award and helping to build a Peabody endowment that will be used to preserve and make more accessible the Peabody Awards Collection.
Every submission becomes part of the Peabody Archive located on the University of Georgia's campus. It is now the nation's third largest archive of radio, TV and web programming. The more than 90,000 items—16 mm films, kinescopes, tapes, cassettes, DVDs and hard drives— are housed in a cavernous, climate-controlled vault underneath the Richard B. Russell Building Special Collections Libraries.
Peabody after 75 years is, more than ever, the gold standard of awards for electronic media, a prize that encourages excellence as well as rewarding it. As multiple-winner Walter Cronkite once said, "You count your Emmys, you cherish your Peabody."