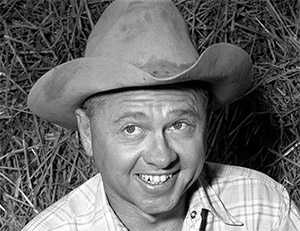 Actor Mickey Rooney, who died Sunday at the age of 93, was most famous for his Andy Hardy comedies in the 1930s and 1940s and for rivaling Frank Sinatra in the bad-marriage department. But let us never forget that Rooney, whose screen acting credits extend from 1926 to this very year, leaves an amazing a television legacy as well.
After his movie-star days ended in the 1950s, he did solid guest star work on prime-time shows from Wagon Train to The Twilight Zone, from Combat to Playhouse 90. Indeed he starred in that Peabody-winning dramatic anthology's celebrated 1957 production of Rod Serling's The Comedian, a stunning portrait of a tyrannical variety show host who was one part Milton Berle, one part Sid Caesar and one part Mr. Hyde.
Rooney got a Peabody of his very own in 1991, when he reminded a whole new generation of his acting ability as the title character in the made-for-TV movie Bill, about a long-institutionalized mentally challenged man trying to adjust to outside life after being released.
"It's doubtful that anyone watching Mickey Rooney as "Bill" failed to be deeply moved, for this is a story that tugs at the heart strings, brings a tear to the eye and leaves the viewer feeling better for having been allowed to watch this person grow and assume a useful place in society," the movie's Peabody citation notes. "This is not fantasy; it is not over-blown; it is simple, real and wonderful, and Mickey Rooney is "Bill." Under the able hand of veteran producer Mel Stuart, a marvelous bit of television has been captured forever."
There's a line that appeared in so many of Rooney's musical comedies with Judy Garland that it became a cliché and a joke. At some point, one or the other of them would have a flash of inspiration for solving some problem and exclaim: "Let's put on a show!"
Rooney took those words to heart. He made them a life's work. He put on a show.