Industry leaders provide expert counsel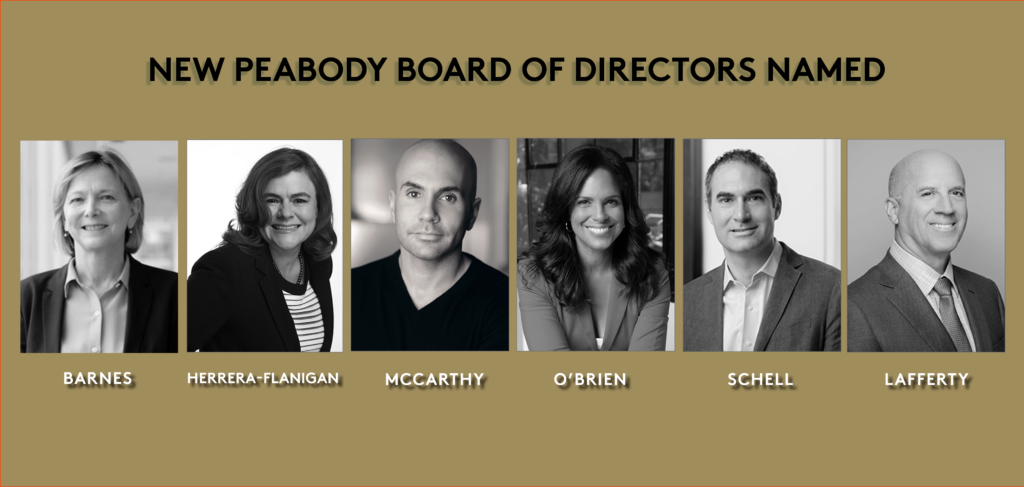 Peabody today announced the appointment of several new members to its bicoastal board of directors. The boards provide expert counsel and stewardship, and advance Peabody's commitment to outstanding and transformative storytelling. Launched in 2015, the board of directors are separate from the traditional board of jurors that bestow the prestigious Peabody Awards for excellence in broadcasting and digital media. Peabody is based at the Grady College of Journalism and Mass Communication at the University of Georgia.
Comprised of an East Coast and West Coast arm, the composition of the boards reflect the diversity of Peabody's constituencies.
"The intellectual capital and energy our boards bring is unparalleled, and we are excited to welcome these new members as they help us extend our reach through new partnerships and public engagements," said Jeffrey Jones, executive director of Peabody.
New members of the East Coast board (in alphabetical order) include:
· Nancy Barnes, senior vice president of news and editorial director at NPR, oversees journalism and journalists around the world and across platforms. She joined NPR in November 2018, after serving as executive editor for Hearst Texas Newspapers and the Houston Chronicle.
· Jessica Herrera-Flanigan, executive vice president of government and corporate affairs, Univision Communications Inc., spearheads the company's government relations efforts, corporate social responsibility, social impact and empowerment initiatives. She previously served as a partner at Monument Policy Group, where she led the firm's technology, media and crisis communications practices.
· Chris McCarthy was recently named president of entertainment & youth brands, ViacomCBS Domestic Media Networks—adding Comedy Central, Paramount Network, Smithsonian Channel and TV Land brands and their respective content studios to his current portfolio of MTV, VH1, CMT and Logo Media. McCarthy joined Viacom in 2004 as a freelancer and rose up the ranks holding various positions of responsibility from marketing, strategy, operations and development.
· Soledad O'Brien, journalist, speaker, author and philanthropist, anchors and produces the Hearst Television political magazine program "Matter of Fact with Soledad O'Brien." Founder and CEO of Soledad O'Brien Productions, she also reports for HBO's "Real Sports," "The PBS NewsHour," WebMD, and has authored two books.
· Connor Schell, executive vice president of content, ESPN, is responsible for overseeing all aspects of content creation across the company. He handles management of ESPN's event and studio production, as well as news, information, and storytelling content across television, audio, digital and print platforms. Schell is also the executive producer and co-creator of the Emmy-, Oscar- and Peabody Award-winning "30 for 30" documentary series.
The West Coast board is adding one new member to its ranks:
· Steven Lafferty, partner and managing director, Creative Artists Agency (CAA), heads the agency's industry-leading television department, which represents many of the world's top television creators, executive producers, directors, and production companies.
The new members will join the following boards (in alphabetical order following chair):
EAST COAST
· John Huey (Chair), Former Editor-in-Chief, Time Inc.
· Philip Balboni, Founder, CEO and Co-Executive Editor, Daily Chatter
· Diana Barrett, Founder and President, The Fledgling Fund
· Caty Borum Chattoo, Director, Center for Media & Social Impact, American University
· Katie Couric, Journalist and Author; Founder, Katie Couric Media
· Maria Cuomo Cole, Producer/Founder, Cuomo Cole Productions
· Nancy Dubuc, CEO, Vice Media
· Kerri Hoffman, CEO, PRX
· Dave Isay, President and Founder, StoryCorps
· Paula Kerger, President and CEO, PBS
· Pat Mitchell, CEO and Producer; Founder, TEDWomen & Chair, Sundance Institute board
· Courteney Monroe, CEO, National Geographic Global Networks
· Sheila Nevins, Head, MTV Documentary Films, MTV Studios
· Michele Norris-Johnson, Founding Director, The Race Card Project & Former NPR Host
· Jay Rosen, Professor, New York University
· Malika Saada Saar, Senior Counsel, Civil and Human Rights, Google
· Kashif Shaikh, Co-Founder and Executive Director, Pillars Fund
· Neil Shapiro, President and CEO, WNET New York Public Media
· Marcia Smith, Co-Founder and President, Firelight Media
WEST COAST
· Bruce M. Ramer (Chair), Partner, Gang, Tyre, Ramer & Brown
· Kevin Beggs, Chairman, Lionsgate Television
· Casey Bloys, President, Programming, HBO
· Emerson Coleman, Vice President, Programming, Hearst Television Inc.
· Susanne Daniels, Global Head of Original Content, YouTube
· Stephen Davis, Executive Vice President and Chief Content Officer, Hasbro, Inc.
· Craig Erwich, Senior Vice President, Head of Content, Hulu
· Susie Fitzgerald, Executive Vice President, Scripted Programming, AMC and Sundance TV
· Cliff Gilbert-Lurie, Senior Partner, Ziffren Brittenham LLP
· Roma Khanna, CEO, Revolt Media and TV
· David Kramer, Co-President, United Talent Agency
· John Landgraf, Chairman, FX Networks and FX Productions
· Steve Mosko, CEO, Village Roadshow Entertainment
· David Nevins, Chief Creative Officer, CBS Corporation and Chairman and CEO, Showtime Networks
· Andy Patman, Co-Head, TV Literary Department, Paradigm Talent Agency
· Rick Rosen, Head of Television, William Morris Endeavor Entertainment
· Peter Roth, President and Chief Content Officer, Warner Bros. Television Group
· Jennifer Salke, Head of Amazon Studios Inc.
· Ted Sarandos, Chief Content Officer, Netflix
· Michael Schwimmer, Executive Vice President, International, Business Development and Strategy, Dish and Sling TV
· David Stapf, President, CBS Television Studios
· Paul Telegdy, Co-Chairman, NBC Entertainment
· Zack Van Amburg, Head of Worldwide Video, Apple