Peabody-Smithgall Lecture Announced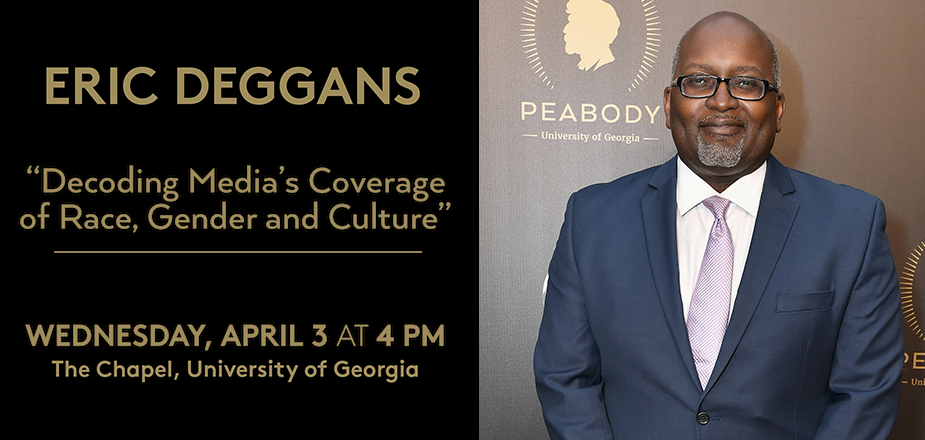 Peabody Awards will present its Peabody-Smithgall Lecture on Wednesday, April 3, at 4 p.m. in the Chapel on North Campus at the University of Georgia. Eric Deggans, television critic for NPR, will speak on "Building Bridges, Not Walls: Decoding Media's Confusing Coverage of Race, Gender and Culture." Peabody is based out of UGA's Grady College of Journalism and Mass Communication.
The Peabody-Smithgall lecture is part of the university's Signature Lecture series, which features speakers noted for their broad, multidisciplinary appeal and compelling bodies of work. The event is free and open to the general public, and UGA students, faculty and staff are encouraged to attend.
"In his five years serving as a juror for the Peabody Awards, Eric has brought thoughtful experience and insight into the process of selecting the best stories of the year," said Jeffrey P. Jones, executive director of the Peabody Awards. "We're delighted to have him share his knowledge with the UGA community."
Deggans was appointed chair of the Peabody Board of Jurors last fall and is the first African-American to hold the position.
"My talk examines how race works in America, how media works in America and how our misconceptions about each fuel a lot of the controversies and conflicts in modern discourse," Deggans said. "Even though race, politics and media can be some of the touchiest subjects to talk about these days, my presentation explores important and tough issues with humor and care—creating a safe space for everyone to express themselves and maybe learn a bit, besides."'Ä®
Eric Deggans is one of the most prominent media critics working today. As NPR's first full-time TV critic, his stories are regularly broadcast on "Morning Edition" and "All Things Considered," along with an array of written contributions to NPR.org's blogs. He came to NPR in September 2013 from the Tampa Bay Times newspaper in Florida, where he worked for nearly 20 years. In addition to his work with NPR, Deggans also appears as a contributor and media analyst for MSNBC and NBC News. He has guest-hosted CNN's "Reliable Sources" many times. His book "Race-Baiter: How the Media Wields Dangerous Words to Divide a Nation" was published by Palgrave Macmillan in October 2012. He also contributed to the Poynter Institute's "The New Ethics of Journalism," published in August 2013. His writing has also appeared in the New York Times online, Salon magazine, CNN.com, the Washington Post, Village Voice, VIBE magazine, Chicago Tribune, Detroit Free Press, Chicago Sun-Times, Chicago Tribune, Seattle Times, Emmy magazine, Newsmax magazine, Rolling Stone online, and a host of other newspapers across the country.
The Peabody-Smithgall Lecture is named in honor of Lessie Bailey Smithgall and her late husband, Charles Smithgall. In the late 1930s, Mrs. Smithgall introduced Lambdin Kay, general manager of Atlanta's WSB Radio, to John Drewry, dean of the University of Georgia's School of Journalism. Together, their efforts led to the establishment of the George Foster Peabody Awards in 1940. In 2003, the Smithgalls endowed the Lambdin Kay Chair, now held by Peabody's Executive Director. The Peabody-Smithgall Lecture is supported with funds from the Lambdin Kay Chair.