Coverage of the 75th Peabody Awards
The 75th Annual Peabody Awards celebrated a diverse list of winners on center stage both at the awards ceremony and the televised special, available for viewing here.
A full account of the evening's highlights was live-blogged by Variety's Cynthia Littleton. The Hollywood Reporter noted the diversity of the room as compared to other awards shows, saying: "this year's Peabody winners, recognizing stories that matter across all forms of electronic media, included a number of diverse titles that were either overlooked or nominated but failed to win other major awards." THR's coverage includes notable quotes from winners, including a faithful transcript of David Letterman's on-stage anecdote regarding a recent state dinner at the White House.
The New York Observer noted that "[o]ne factor that made the evening so memorable was that each of the recipients gave an acceptance speech that was generally as inspirational as the creative piece that got them to the podium." Bryant Gumbel, himself recipient for Real Sports Peabody-winning piece "The Killing Fields," was brought on-stage to acknowledge the passing of Morley Safer and presented a retrospective on the last 75 years of journalistic practice in radio and television.
Yahoo! TV dug deep into what a Peabody Award means to winners, writing "[a]sk any previous winner, and you realize what it means to earn a Peabody. Suddenly, your show stands apart from almost anything else on TV. It's not just about prestige — it's about respectability."
While the list of honorees included an institutional award for The Daily Show with Jon Stewart and an individual Peabody for David Letterman, the night of the ceremony provided a stage to shine a spotlight on other less-well known, but equally deserving winners. Even the blog Generation Progress remarked upon the diversity of honorees, acknowledging "[t]he Peabody Awards recently recognized a number of television shows and films that the Emmy Awards failed to recognize. From Netflix's Beasts of No Nation and Marvel's Jessica Jones to Amazon's Transparent and Lifetime's UnREAL, the Peabody Awards Board of Jurors announced a diverse set of winners."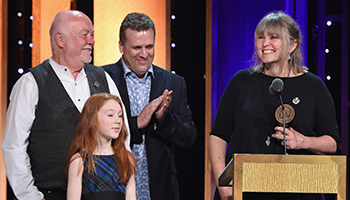 Scotland's charming children's program Katie Morag was represented on-stage by star Cherry Campbell, editor and executive producer Lindy Cameron, lead writer Sergio Casci and director Donald Coutts. The Peabody Award for Do Not Track, the interactive web documentary on online privacy and the problem with 'filter bubbles,' was received by show runner, director, editor and writer Brett Gaylor.
Local news coverage was honored with three different awards, one for WMAQ-TV's Peabody for Carol Marin's Laquan McDonald Investigation, another being WXIA-TV's Peabody for Brendan Keefe's series 911: Lost on the Line and a third award for Burning Questions: WTAE Investigates Fire Response Times, each a story that touched on much larger national discussions around the behavior of first responders. Broadcasting & Cable ran an article spotlighting reporter Paul Van Osdol's coverage for WTAE-TV, describing how Van Osdol "spent months probing the long-standing volunteer fire department system that serves much of Western Pennsylvania outside of Pittsburgh…" culminating in a report that "revealed problems including the insufficient training of firefighters and state computer problems that kept fire departments from reporting critical information, as well as a steep decline in volunteers."
Finally, we want to direct your attention to the interview departing Board of Juror member Maureen Ryan gave to the genre podcast Unreliable Narrators, where she discusses the Peabody Awards review process in-depth with host Chris Cornell.