Brand and Monello bring fresh insight, experience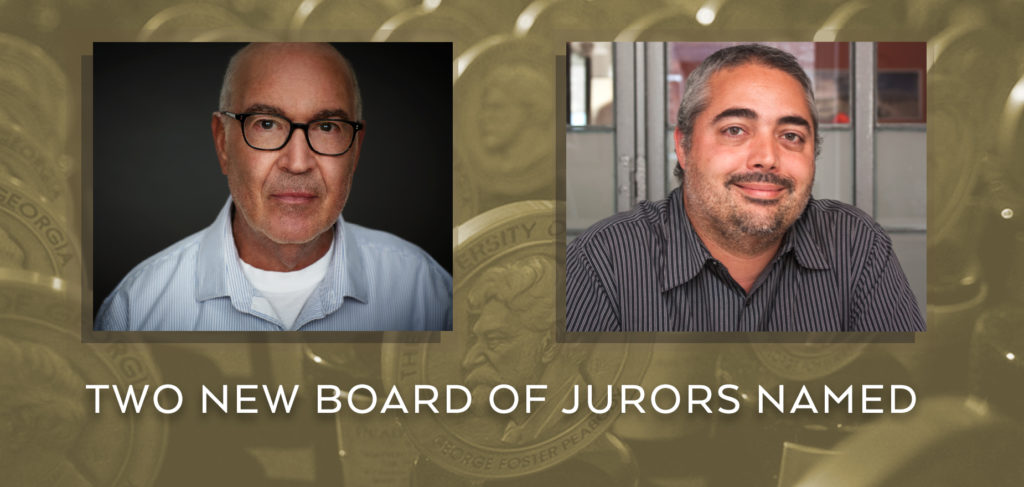 Peabody has appointed Joshua Brand and Mike Monello to its board of jurors, which each year evaluates entries and bestows the Peabody Awards for excellence in electronic media. The program is housed in the University of Georgia's Grady College of Journalism and Mass Communication.
"It's always exciting to bring fresh voices and insight to the judging process," said Jeffrey Jones, executive director of the Peabody Awards. "We strive for a mix of top-level industry leaders from varied backgrounds who are well-versed in media excellence, and Joshua and Mike certainly fit the bill."
Joshua Brand is a writer, director and producer who has worked on five Peabody Award-winning programs, including "St. Elsewhere," "I'll Fly Away," "Northern Exposure" (two wins), and "The Americans." Earlier in his career, he was a story editor on "The White Shadow" and later shared credit for developing the first season of "Amazing Stories" with Steven Spielberg. Brand also co-created "A Year in the Life" and "Going to Extremes." In addition to Peabody Awards, he is the recipient of multiple Emmys, Golden Globes, a Producer's Guild Award, and a Humanitas Prize. As a director, he was nominated for an Emmy and a Director's Guild of America Award for the two-hour pilot of "I'll Fly Away." In 2013, he received the Paddy Chayefsky Lifetime Achievement Award from the Writer's Guild of America. In 2015, an episode of "The Americans" he wrote, titled "Do Mail Robots Dream of Electric Sheep?" was nominated for an Emmy. A graduate of The City College in New York, Brand also earned a master's degree in English literature from Columbia University.
Mike Monello is a true pioneer when it comes to immersive storytelling and innovative marketing. In the late 1990s, Monello and his partners at Haxan Films created The Blair Witch Project, a story told across the burgeoning internet, a sci-fi channel pseudo-documentary, books, comics, games, and a feature film, which became a pop-culture touchstone and inspired legions of "found-footage" movies in its wake. It forever changed how fans engage with story and how marketers approach the internet. Inspired by the possibilities for engaging connected fan cultures and communities online, Monello co-founded Campfire in 2006. There, he leads an agency that has developed and created groundbreaking participatory stories and experiences for HBO, Amazon, Netflix, Cinemax, Discovery, National Geographic, Harley-Davidson, Infiniti, and more. Campfire won Small Agency Campaign of the Year via AdAge in 2013 and Small Agency of the Year via the Online Marketing Media and Advertising Awards in 2012, and has been awarded top honors at the Cannes Lions Festival, Clios, One Show, MIXX, and the Emmys. Monello regularly speaks at high-profile events such as Advertising Week, SXSW, Digital Hollywood, and more.
The Peabody Board of Jurors is made up of media industry professionals, media scholars, critics and journalists who are appointed by the program's executive director to a renewable three-year term of service. The single criteria for receiving a Peabody Award is excellence. Toward that end, jurors ask themselves: Does this story matter? Is this a story that needs telling? Does it inform us as citizens or help us empathize with one another? The current board of jurors includes:
· Marcy Carsey, TV producer, co-founder, Carsey-Werner Company
· Eric Deggans, TV critic, NPR; guest host, CNN's Reliable Sources
· Eddie Garrett (chair), executive vice president, Global Digital Strategies, Porter Novelli
· Herman Gray, professor of sociology, University of California-Santa Cruz
· Jonathan Gray, professor of media and cultural studies, University of Wisconsin-Madison
· John Huey, former editor-in-chief, TIME Inc.
· Kathy Im, director of journalism and media, John D. and Catherine T. MacArthur Foundation
· Henry Jenkins, professor of communication, journalism, cinematic arts and education, University of Southern California
· Simon Kilmurry, executive director, International Documentary Association
· Kim Masters, editor-at-large, The Hollywood Reporter; host, KCRW's The Business
· Mark McKinnon, TV producer and political analyst
· Martha Nelson, global editor-in-chief, Yahoo Media
· Monica Pearson, retired news anchor, WSB-TV Atlanta
· Naibe Reynoso, co-host, "HOLA! LA" on KCAL/KCBS; host and producer, Ora TV
· John Seigenthaler, senior counsel, Finn Partners; former anchor, NBC News
Submissions are now being accepted for the 77th Annual Peabody Awards. Judging will begin in early 2018, and the awards ceremony will be held on Saturday, May 19, at Cipriani Wall Street in New York.